Incidents and warnings
'400 in 4' Charity Bike Ride
'400 in 4' Charity Bike Ride
Published: 31st March 2009
All proceeds to The Burns Unit at The Children's Hospital at Westmead
'400 in 4' Charity Bike Ride Sydney to Wagga Wagga
Website
www.400in4.org

When

Tuesday 17th March to Friday 20th March 2009
4 Days - Over 400kms
Day 1: Campbelltown Fire Station to Goulburn (141kms)
Day 2: Goulburn to Yass (90kms)
Day 3: Yass to Gundagai (101kms)
Day 4: Gundagai to Wagga Wagga (95kms)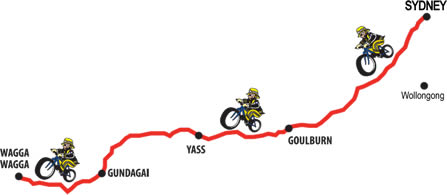 The Challenge
A group of riders comprising firefighters from the NSW Fire Brigades and some representatives of the major sponsors are raising funds for the Burns Unit at the Children's Hospital at Westmead by cycling over 400 kilometers from Campbelltown fire station to Wagga Wagga over 4 days.
The riders hope not only to raise money for the Burns Unit but also to raise fire prevention awareness to make our community safer.
The '400 in 4' is seeking support from the public and business community to raise as much as possible through tax deductible donations and sponsorship.
The charity ride has raised over $60,000 in less than three years & enjoys sponsorship from some large Australian corporations. Every dollar counts, so please donate to this great cause; the Burns Unit at the Children's Hospital at Westmead.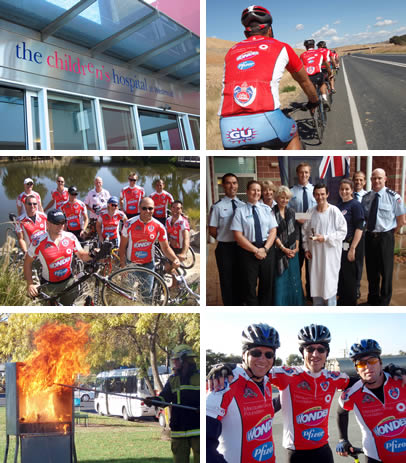 Free NSWFB demonstrations

A number of NSWFB home fire safety demonstrations will be held throughout the marathon ride. Come along to any of the sessions and receive information brochures on smoke alarms and Home Escape Plans
Donations
Donations can be made by direct deposit into the following account:
Bank: St George
Account name: 400 in 4
Account number: 482846497
BSB Number: 112879
(please leave your name as a reference)

Cheques can be made out to '400 in 4' and forwarded to:
Liverpool Fire Station
C/- Scott Hanley
Anzac Road, cnr of Greenhills Ave
Moorebank, NSW, 2170.
All donations over $2 are tax deductible.
For further info please email scott.hanley@fire.nsw.gov.au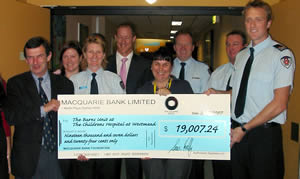 Last years Cheque Presentation to The Burns Unit at Westmead Children's Hospital