Incidents and warnings
First class firefighters are first class of 2008
First class firefighters are first class of 2008
Published: 31st January 2008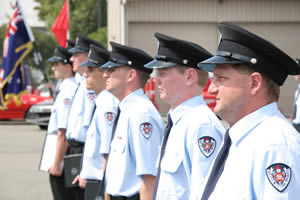 The NSW Fire Brigades' (NSWFB) numbers were today bolstered, with 20 new recruits joining the front line firefighting ranks.
The recruits of Class 5/2007 are the first graduating class for 2008 and will, from tomorrow, start working at NSWFB fire stations across the Sydney metropolitan area.
These firefighters have worked in a variety of professions including IT, entertainment, aviation, medical and tourism, before joining the NSWFB.
NSWFB Commissioner Greg Mullins welcomed the 20 new firefighters during a graduation ceremony held at the NSWFB State Training College, Alexandria.
"I am pleased to welcome another 20 new firefighters into the NSWFB. The intensive training that these men and women have successfully undertaken in the past 16 weeks has given them the skills to protect our community.
"These firefighters will be faced with a range of emergency situations, from fighting fires to dealing with hazardous chemical spills, gas leaks and rescuing people from car and industrial accidents.
"Today the career of a firefighter is much broader than in days gone by. As they begin their careers at fire stations across Sydney they will not only strengthen fire and emergency protection, but be resourced and required to educate the wider community on fire prevention and community safety messages.
"I congratulate all the new recruits on their training achievements and graduation, and wish them well in their challenging careers with the NSWFB," he said.
The graduating firefighters will take up positions at the following fire stations:
Andrew Beattie - Glebe
Michael Hall - Wentworthville
Todd Calderwood - Chester Hill
Richard Hoffman - Busby
Llewellyn Cameron - Chester Hill
Luke Hyde - Guildford
John Casey - Kellyville
Scott MacLeod - Kellyville
Matthew Cleary - City of Sydney
Daniel Manoliu - Parramatta
Gerrard Collins - Cabramatta
Samuel Mayo - Rydalmere
Peter Darroch - Regentville
Christopher Naisby - Bonnyrigg Heights
Dale English - Chester Hill
Luke O'Brien - Glebe
Craig Fry - Schofields
Luke Roughley - Wentworthville
Sarah Green - Darlinghurst
Brendan Young - Cranebrook