Incidents and warnings
New recruits welcomed, firefighters commended for their actions during civil disturbance
New recruits welcomed, firefighters commended for their actions during civil disturbance
Published: 25th October 2007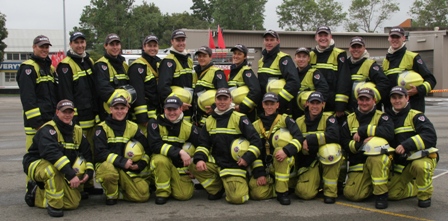 Commissioner Greg Mullins today welcomed 20 new recruits to the NSW Fire Brigades (NSWFB) during a graduation ceremony which also saw 28 firefighters commended for their actions during a civil disturbance in 2004.
The graduates have completed the NSWFB's 16 week training course and have already seen action after being drafted in to help fight the Oxford Falls bushfire earlier this month.
The graduates come from a variety of backgrounds. Five used to work in the electrical industry and two were school teachers. There is a baker, a call centre manager, a motorcycle instructor and even a former professional diver.
Commissioner Mullins said that the latest graduates to join the NSWFB would be deployed to stations across Sydney.
"Throughout their careers they will assist the community in a range of emergency situations, from fighting building, bush and grass fires to dealing with hazardous chemical spills, gas leaks and rescuing people from car and industrial accidents.
"The new firefighters will also have a role in educating sectors of the community about fire safety and other emergency areas such as road safety education for young adults."
Following the recruit graduation ceremony, which was held at the NSWFB Training College in Alexandria, 28 firefighters received commendations for their actions during the civil disturbance in Redfern in 2004.
Senior Firefighter Richard Lucas was awarded a Commendation for Courageous Action for going to the rescue of injured police officers without any thought for his own safety.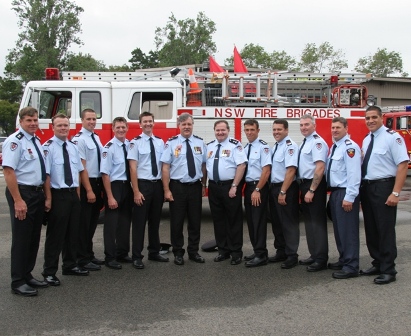 Firefighters from Redfern, Alexandria, Newtown and City of Sydney fire stations received Unit Commendations for Meritorious Service for extinguishing fires at Redfern railway station, extinguishing incendiary missiles and removing hot fragmented casings, carrying wounded police officers from the police line to the ambulance triage area and providing medical assistance.
Three senior fire officers - Superintendent Peter Stathis, Superintendent Ian Krimmer and Inspector Bradley Harrison - received Commendations for Meritorious Service for displaying strong leadership in a rapidly deteriorating situation not normally faced by NSWFB firefighters.
NSWFB's Commissioner Greg Mullins said the firefighters acted in the finest traditions of the service.
"Despite the difficult circumstances the firefighters carried out their job, not only extinguishing various fires and saving Redfern Railway Station from burning down but also rescuing and treating injured police officers."
Editors Note:
The graduate fire officers will take up positions at the following fire stations:
Gordon Jones - Smithfield
Aaron Gough - Lidcombe
Damian Williams - Ryde
Ben Buckingham - Smithfield
Aaron Young - Bonnyrigg
Andrew Boyle - Cabramatta
Russell Sullivan - Concord
Rowena Bailey - Mascot
Alexander Bird - Parramatta
Michael Kennedy - Rydalmere
Jerard Kelly - Marrickville
Ryan Lawton - Fairfield
Paul Broomfield - Narellan
Brent Agland - Lane Cove
Shaun Kokkin - City of Sydney
Paul Taylor - Bondi
Geoffrey Scott - City of Sydney
Bradley Bevitt - Glebe
Rodney Toms - Liverpool
Stewart Adams - City of Sydney
All new recruits conduct a charity drive for either, Westmead Children's Hospital Burns Unit, Motor Neurone Disease Association, Royal Humane Society, Child Flight and Care Flight, during the final stages of their training.
The current class of recruits raised over $4,260 for Westmead Children's Hospital Burns Unit and the money will be donated to the hospital during today's graduation ceremony.