Incidents and warnings
NSW Fire Brigades recognises quick thinking actions of a good Samaritan
NSW Fire Brigades recognises quick thinking actions of a good Samaritan
Published: 28th September 2007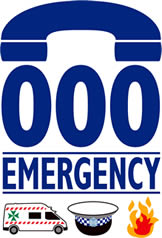 A good Samaritan, who phoned Triple Zero (000) after randomly receiving a phone call from an elderly woman caught in a house fire several suburbs away, has been praised for helping firefighters save the woman and her home.
NSW Fire Brigades' (NSWFB) Chief Superintendent Mark Whybro - who heads up the NSWFB Triple Zero (000) dispatch centre – today presented Ms Sue Le Carpentier, of Hornsby Heights in Sydney, with a Letter of Appreciation from the Commissioner in recognition of her quick-thinking actions.
Chief Superintendent Whybro said Ms Le Carpentier was at home last month when the elderly woman living in Ryde discovered a fire in her home, tried to call for help but misdialed and ended up speaking to Mrs Le Carpentier.
"Instead of dialing Triple Zero (000), the woman panicked and tried to call a family member. In her distressed state she misdialed the number and ended up speaking to a complete stranger in Hornsby Heights.
"She told Mrs Le Carpentier that her house was on fire and rather than hanging up or dismissing it as a prank call, Mrs Le Carpentier was able to get enough information from the woman to make a Triple Zero (000) call.
"The NSWFB responded immediately with fire engines sent from Eastwood and Ryde. It was more than six minutes before a second Triple Zero (000) call was made by a neighbour, during which time the fire had spread to the roof space of the house and the elderly woman had suffered from smoke inhalation.
"The fire crews arrived in time to rescue the woman and extinguish the blaze. If we had only received the second call, six minutes later, there was a real potential for the fire to spread further and the woman to have suffered more severe injuries. In an emergency every second counts."
Chief Superintendent Whybro said Ms Le Carpentier's Triple Zero (000) call could have been the difference between life and death for the elderly woman.
"Even though they had never met and the call came out of the blue, Ms Le Carpentier did exactly the right thing. She stayed calm, got all the details we needed including the address and the type of emergency then immediately dialed Triple Zero (000) and asked for the Fire Brigade."
Chief Superintendent Whybro said Triple Zero (000) should be the first number called in an emergency or life-threatening situation.
"Sit down with your family and make sure that everyone knows that Triple Zero (000) is the number to call. It is surprising how many people do not know, or in the heat of the moment cannot remember Australia's emergency number.
"If you ever need to call Triple Zero (000) make sure you stay focused, stay relevant and stay on the line. If you do call from your home phone but are forced to leave for safety reasons, leave the phone off the hook and help will be sent to your home.
"It is very important that you call from a safe location and don't try to fight the fire yourself."
For more information about Triple Zero (000), including the recent national awareness advertising campaign, visit www.triplezero.gov.au or www.fire.nsw.gov.au.
Editor's Note: An audio file of Ms Le Carpentier's Triple Zero call, followed by a neighbour's call six minutes later, is available below.
Good Samaritan Triple Zero (000) call (mp3, 1.5MB)