Incidents and warnings
NSW Fire Brigades Wins Safer Community Award
NSW Fire Brigades Wins Safer Community Award
Published: 25th September 2007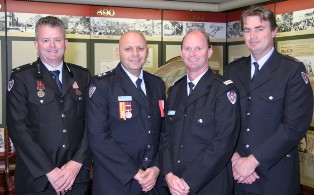 The NSWFB's I-Zone project, which reduces the effects of bushfires on people living in bushfire prone areas, was announced in State Parliament today as a NSW winner and a finalist in the national awards.
A Highly Commended was given to the NSWFB's Culturally and Linguistically Diverse (CALD) program, which provides fire safety information to community groups who are at greater risk of injury and death from fires.
Acting Commissioner John Benson said the I-Zone project was being piloted by fire stations in Campbelltown, Katoomba and Ryde.
"Bushfires are a constant danger as the summer months approach so we are continually refining our methods and looking for ways to improve our response and protect the community.
"We have taken a new approach to managing bushfires that impact on the urban environment. The I-Zone project draws on the latest technology and world's best emergency practice.
"I-Zone uses aerial photography, electronic data management and response planning, that is integrated with the NSWFB Computer Aided Dispatch system, to provide a holistic response to bushfire emergencies."
Superintendent Gerry Byrne, NSWFB Manger Bushfire/Natural Hazards, has been the driving force behind I-Zone.
"Over the past three years we have been drawing on research from around the world, in particular the US, to develop a risk assessment process to better identify risks before and during bushfires," he said.
"This approach enables us to make better informed decisions and deploy resources to where they are most needed, which means we can better protect the communities which are most at risk."
A/Commissioner Benson said the CALD program had made important in-roads into fire safety awareness among NSW residents from different ethnic backgrounds as well as new migrants and refugees.
"Firefighters play an important role in educating the community about fire safety and nowhere is this more important than among members of CALD communities who are more likely to experience a fire in the home or be injured by fire.
"While most people know that Triple Zero (000) is Australia's emergency number and that smoke alarms are compulsory in all homes, new migrants or people whose first language is not English may not be so familiar with these messages.
"Through a partnership with the Australian New Muslims Association (ANMA) in Lakemba, local firefighters are able to deliver these important fire safety messages and raise awareness about the work of the NSWFB.
"The ANMA and the NSWFB has been working together for the past four years to develop joint fire safety presentations on smoke alarms and other key fire safety programs for the local Arabic community using interpreters and translated fire safety fact sheets."
The CALD program is also being delivered to Sudanese refugee groups by firefighters in Coffs Harbour, Orange, Lismore and Blacktown.
In Parramatta the CALD program is being delivered to the Vietnamese and Chinese communities and in Leichhardt to the Italian community.