Incidents and warnings
"Here I come.......ready or not"
"Here I come.......ready or not"
Published: 17th September 2007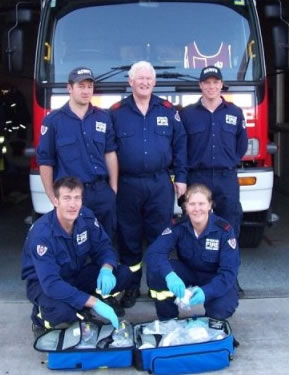 At approximately 2pm on Thursday 13 September, as part of their Medical First Responder role, firefighters from the Uralla Fire Station were responded to a medical call to assist a woman in labour at a residence in Uralla.
On arrival, firefighters were presented with a woman in the advanced stages of labour, with the baby's head crowning. Firefighter Nicole Connolly stepped up to the task whilst her male colleagues happily retreated to the patient's side and provided assistance by readying the oxygen equipment.
Although Nicole's training in basic life support covered emergency childbirth, it's not something firefighters expect to do very often. Fortunately, Ambulance Officers Neal Waters and Ian Pickup arrived from Armidale just in time to facilitate the delivery of a baby girl.
As a firefighter, we often rescue people from distressing situations such as fires, car accidents and industrial accidents and always hope we made a difference. In the case of firefighters Hooper, Morrissey, Fox, Paton, and Connolly, they can feel confident that their actions have definitely had a positive impact in the community of Uralla.
For fire safety information visit www.fire.nsw.gov.au or contact your local NSWFB station.