Incidents and warnings
Fundraising firefighters pass on fire safety tips to regional NSW communities
Fundraising firefighters pass on fire safety tips to regional NSW communities
Published: 24th July 2007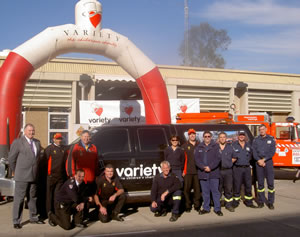 On Sunday 5 August, 15 firefighters from the NSW Fire Brigades (NSWFB) and the NSW Rural Fire Service (RFS) will embark on a 5,151km journey across Australia – all in the name of charity and promoting greater fire safety awareness in remote and isolated communities in NSW.
Firefighters from both organisations will be participating in the annual 2007 NSW Variety Bash – Australia's most successful charity motoring event – which aims to raise money for special needs children across Australia.
NSWFB spokesperson, Inspector Ken Murphy, said that the Variety Bash 2007 provided the NSWFB and RFS with a unique opportunity to pass on vital fire safety information to people living in remote and regional communities.
"Our main aim is to ensure that people in remote and isolated communities across NSW are aware of key fire safety messages such as the importance of smoke alarms and escape plans."
Inspector Murphy said that the NSWFB and RFS will be visiting four NSW schools along the Bash route and working with local firefighters to teach children important fire safety messages like 'get down low and go, go, go' and about the importance of having a working smoke alarm and an escape plan in every household.
The Variety Base to Bathurst Bash 2007 leaves Base (Garden Island, Sydney) on 5 August and arrives at Bathurst (HMAS Bathurst, Darwin) on 16 August.
The NSWFB and RFS will hold two pre-Bash fundraising events on Wednesday 25 July:
NSWFB Greenacre complex
Amarina Avenue, Greenacre
7.30am
RFS State Headquarters
Carter Street, Lidcombe
12.30pm