Incidents and warnings
Firefighters from Blayney save another house from being engulfed in flames
Firefighters from Blayney save another house from being engulfed in flames
Published: 24th July 2007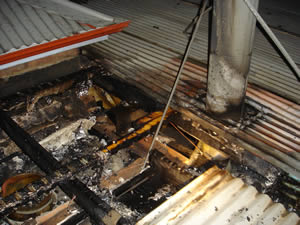 At around 6pm on Saturday 21 July 2007, the crew from NSW Fire Brigades (NSWFB) Blayney Fire Station was called to a house fire in Water St, Blayney.
On arrival they found a single level house with smoke billowing from the rear section of the property. The crew quickly extinguished a fire in the roof and was able to prevent the fire from spreading to the remainder of the house.
It appears the fire started when heat from the chimney of a slow combustion heater caused the roof timbers to catch alight.
NSWFB Inspector Tim Fox urged people with wood burning stoves and heaters to have the roof areas checked to see if the chimney was causing heat damage to the roof timbers.
"If you are concerned about your chimney, it's best to consult a builder to ensure that your roof timbers are protected from the heat of the chimney," he said.
For further information about winter fire safety visit
www.fire.nsw.gov.au
Media contact:
Inspector Tim Fox (Duty Commander Upper Hunter and Central West) 0429 826 464