Incidents and warnings
Fire Brigade Station Officers graduate
Fire Brigade Station Officers graduate
Published: 28th June 2007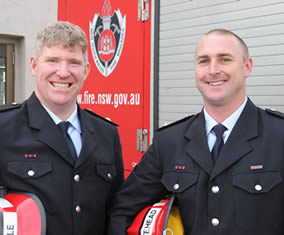 Commissioner Greg Mullins of the NSW Fire Brigades (NSWFB) today congratulated 20 firefighters who were promoted to the rank of Station Officer after graduating from a nine-week development program.
Station Officers manage fire stations and teams of firefighters, providing leadership and command at all types of emergencies as well as fulfilling specialised management roles.
"Being a Station Officer in the NSWFB is a huge responsibility. The course is very demanding and they have met every challenge presented to them," Commissioner Mullins said.
"Each graduating Station Officer has received training in administration, human resource management and specialist skills to lead emergency operations including rescues, chemical spills, bush and building fires and even dealing with the aftermath of a terrorist attack," he said.
The officers have a minimum of nine years' extensive experience on the front line at fire stations across NSW.
"The training they have received will enable them to lead their colleagues and protect the community in any emergency situation," Commissioner Mullins said.
The Station Officers will take up their positions at the following fire stations and sections of the NSWFB shortly:
Quentin Johnson - Parramatta
Graeme Tull - Crows Nest
Ian Jameson - The Rocks
Dean Wellfare - Smithfield
James Barnes - Parramatta
Harry Fisher - Newtown
Nicholas Short - Driver Training
Thomas Freedom - Huntingwood
Gaven Muller - Castle Hill
Glen Whitehead - Broken Hill
Martin Annan - Bankstown
Jeremy Fewtrell - City of Sydney
John Phillipp - Cabramatta
Grant Kenny - Crows Nest
Stephen Franks - Burwood
Edward Melinz - Chester Hill
Craig Hill - Woollahra
Brett Butler - Crows Nest
Phillip Eberle - Broken Hill
Kevin O'Reilly - Huntingwood