Incidents and warnings
Fire Commissioner congratulates Dubbo fire officer on receiving award
Fire Commissioner congratulates Dubbo fire officer on receiving award
Published: 9th May 2007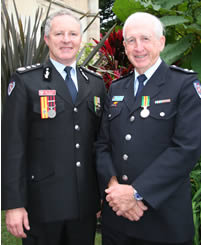 NSW Fire Brigades (NSWFB) Commissioner Greg Mullins has extended his congratulations to NSWFB Captain Raymond McTiernan from Delroy Fire Station who will be presented with the Australian Fire Service Medal (AFSM) today.
The Governor of NSW, Professor Marie Bashir AC, will present Captain McTiernan with the AFSM at an investiture ceremony at Government House at 3pm today.
Commissioner Mullins said the AFSM, which recognises outstanding contributions to the community and fire services, was one of the highest honours an Australia fire officer could receive.
"Captain McTiernan is a worthy recipient of this award, given his dedication and contribution to the community, the NSWFB and his crew at Delroy Fire Station," Commissioner Mullins said.
"It is fire officers like Captain McTiernan who help to ensure community confidence in the fire services is high," he said.
Captain Raymond McTiernan joined the NSWFB as a retained (on-call) firefighter attached to the Dubbo Brigade on 1 June 1961 and his primary employment prior to his retirement was as an Inspector with the Department of Main Roads.
In 1983, the rapidly expanding regional centre of Dubbo required the opening of a second fire station at Delroy.
Captain McTiernan and a number of other retained firefighters transferred to the new station and he was appointed as the Deputy Captain on 15 March 1983 with his brother Greg as Captain. Ray was appointed Captain after his brother's death in June 1985 and still holds that position today.
Captain McTiernan and the firefighters under his command are very active within their community. Through his drive and leadership, the Delroy Brigade conducts programs in community fire safety, fire awareness and evacuation and general fire safety.
Since his appointment as a retained firefighter, Captain McTiernan has been an active participant in the NSW Fire Brigades Championships program and served for many years on the Championships Association State Council.
Captain McTiernan played a major role in campaigning for improved firefighting resources in Dubbo, which resulted in full-time firefighters being attached to the Dubbo Fire Station around the clock.He received the National Medal in recognition of his long service to the NSW Fire Brigades on 11 June 1982 and has subsequently been awarded a first and second clasp to the Medal for each decade of service.