Incidents and warnings
Fire Commissioner congratulates Blue Mountains fire officer on receiving award
Fire Commissioner congratulates Blue Mountains fire officer on receiving award
Published: 9th May 2007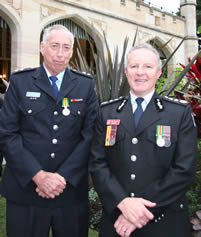 NSW Fire Brigades (NSWFB) Commissioner Greg Mullins has extended his congratulations to NSWFB Captain Keith Ferguson from Springwood Fire Station who will be presented with the Australian Fire Service Medal (AFSM) today.
The Governor of NSW, Professor Marie Bashir AC, will present Captain Ferguson with the AFSM at an investiture ceremony at Government House at 3pm today.
Commissioner Mullins said the AFSM, which recognises outstanding contributions to the community and fire services, was one of the highest honours an Australia fire officer could receive.
"Captain Ferguson is a worthy recipient of this award, given his dedication and contribution to the community, the NSWFB and his crew at Springwood Fire Station," Commissioner Mullins said.
"He has demonstrated exceptional leadership throughout his service and particularly during major bushfires in the Blue Mountains and Lithgow areas in 1968, 1977, 1994, 2001 and late last year.
"It is fire officers like Captain Ferguson who help to ensure community confidence in the fire services is high," Commissioner Mullins said.
Captain Keith Ferguson was appointed to the NSW Fire Brigades as a retained (on-call) firefighter attached to the Willoughby Fire Brigade on 15 June 1957.
He moved to Springwood in 1962 and was subsequently appointed to the Springwood Brigade on 30 June 1963 serving the people of NSW and the NSWFB for nearly 50 years.
Captain Ferguson has developed close relationships with local police, the Rural Fire Service and other emergency services in the Blue Mountains. These relationships have been of great benefit to all of the emergency services, enabling a closer working relationship during major emergencies.
He has been very active within his local community where he was a member and volunteer worker in a number of community and service organisations including Apex, Springwood Lions Club, Springwood Boys and Girls Club and the Springwood and Community Youth Club.
Captain Ferguson's community service, particularly to the Springwood Blue Light Discos and youth activities was recognised in 2005 through the award of a NSW Police Force Commendation.