Incidents and warnings
Fire Commissioner urges residents to change smoke alarm batteries when they change their clocks
Fire Commissioner urges residents to change smoke alarm batteries when they change their clocks
Published: 25th March 2007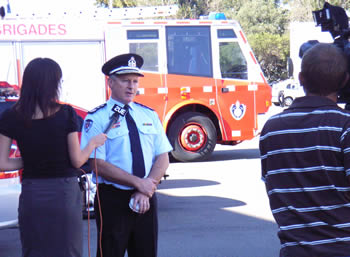 NSW Fire Brigades (NSWFB) Commissioner Greg Mullins today urged NSW residents to check their smoke alarms and change the batteries this Sunday 25 March 2007 when they change their clocks for the end of daylight saving.
Commissioner Mullins said statistics showed that more than 70 per cent of fire fatalities in NSW occurred in homes that either did not have smoke alarms or had smoke alarms that did not work, often because batteries were flat, or had been removed.
"Smoke alarms were made compulsory in all buildings where people sleep last year following a tragic spate of fire deaths in the winter of 2005," Commissioner Mullins said.
"Nobody can be complacent. A broken smoke alarm or one with a dead battery is as dangerous to you and your family as not having a smoke alarm at all.
"When you change your clocks this weekend, make sure you also test your smoke alarms and change the batteries, even if they seem to be okay."
Commissioner Mullins said a fire could happen anywhere at any time, and smoke alarms provide early warning to allow people to escape.
"If you are asleep at the time of the fire, the smoke from a fire can put you into a deeper sleep. The shrill sound of the smoke alarm is designed to wake you and give you time to put your escape plan into action."
An escape plan identifies two escape routes from each room and a place to meet once outside, and local fire officers can give families simple advice on how to develop their own plan.
The Change Your Clock, Change Your Smoke Alarm Battery campaign is a national initiative supported by Duracell and fire services.
For further information on smoke alarms, go to the NSWFB website at www.fire.nsw.gov.au