Incidents and warnings
Lismore fire officer named in Australia Day Honours
Lismore fire officer named in Australia Day Honours
Published: 26th January 2017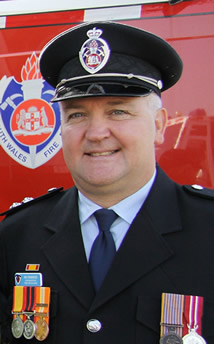 A Fire & Rescue NSW (FRNSW) fire officer's dedicated service to protecting Northern Rivers communities has been recognised in today's Australia Day Honours.
Lismore Station Officer Ian Grimwood, who has served with FRNSW for more than 24 years, has been awarded the Australian Fire Service Medal (AFSM).
The AFSM is the highest honour an Australian firefighter can receive and Station Officer Grimwood is one of three FRNSW firefighters awarded the prestigious medal in today's honours.
FRNSW Acting Commissioner Jim Hamilton congratulated Station Officer Grimwood, of Lennox Head, on the well-deserved recognition.
"Station Officer Grimwood served for many years in inner Sydney before his appointment as station commander at Goonellabah Fire Station in 2006 and then Lismore Fire Station in 2009," he said.
"He has worked closely with local firefighters in the area, mentoring and providing advice in highly complex areas, including hazardous materials response and recovery.
"The dedicated firefighter has served local communities through not only leading emergency response and recovery but also educating residents about fire safety and prevention."
Station Officer Grimwood has previously been awarded a Commissioner's Unit Commendation for his support of the Northern Rivers' Repco Rally Australia Championships in 2009, and a Commissioner's Individual Commendation in 2008 for his work in researching and recording the achievements of firefighters in theatres of war and other conflicts.
Acting Commissioner Hamilton said Station Officer Grimwood is highly regarded as an exemplary station commander in the Northern Rivers, serving his community, leading and mentoring firefighters, and preserving FRNSW's military history.
"He has displayed distinguished service of the highest order and is a worthy recipient of this Australia Day honour," he said.
Station Officer Grimwood will be presented with his AFSM at a ceremony later in the year.