Incidents and warnings
Obituary - Fred Orreill 101 retired firefighter
Obituary - Fred Orreill 101 retired firefighter
Published: 15th January 2007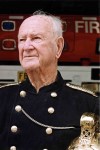 Fred Orreill was born on March 9, 1905 in Albany Street, Crows Nest. He attended Marist Brothers School in North Sydney where he was a soloist in the church choir. When he left school at 16 he was offered an apprenticeship as a carpenter with a shipwright company, working on such diverse sites as bridge construction in Bombo and as a carpenter at the abattoirs in Homebush and Bathurst. Unfortunately, work wasn't regular after his apprenticeship finished, and after a few odd jobs, Fred joined the Metropolitan Fire Brigade in 1930 at the age of 25. He was stationed at what is now called City of Sydney but back in those days was known as Headquarters.
In the early days, firefighters worked an 84-hour week for £3/12/6. Fred rode on fire engines made from an English company Dennis and they had solid rubber tyres. The brakes were on the outside, as were the firefighters. There were no breathing apparatus at the time. Firefighters used a bag filled up with oxygen and could only breathe in that, but it was only used in special places and by one man. The uniforms of the day would absorb quite a lot of water and become heavier the longer firefighters were at a fire. Helmets were made of brass, as were the buttons n the uniforms and both had to be kept polished. Firefighters were sent to a fire without any knowledge of what was ahead of them and were generally only equipped with an axe and spanner and often used a small rope called a pocket line to find their way in and out of buildings.
Fred was promoted as a Station Officer on January 13, 1948 and retired as a Station Officer at Willoughby Fire Station in 1965. Like most firefighters, Fred often had other jobs to attend out of work hours, even though it wasn't officially allowed.
One of those other jobs was as a security officer with Mayne Nickless, delivering the pay for the wharfies. On one occasion, notorious criminal 'Neddy Smith' and his gang forced his way in and held up the staff, telling them to drop to the floor or else. Fred initially ignored the 'request' but when a bullet went sailing past his ear, he was on the floor in an instant.
When Fred retired from the NSW Fire Brigades at the age of 60 he worked with an ex-firefighter Ross Stephenson who owned a stationery company and then after several years worked for another stationery company. After a heart attack at the age of 75, Fred offered his services to Meals on Wheels and drove and delivered meals for them up until the age of 100.
Still holding a drivers licence up until the age of 100, his driving came to an end when he fell and dislocated his shoulder. He then purchased a motorised scooter, which was often seen parked outside the North Sydney Leagues Club around midnight.
Fred was an active sportsman, playing A-grade tennis in the same team as Harry Hopman. He was still playing squash in his sixties. He also loved playing snooker and was involved for many years in the North Sydney Leagues Club's Sports Council.
He was awarded the Order of Australia Medal in 2002 and the Australian Sports Medal in 2000.
Fred Orreill passed away on Tuesday, January 9, 2006. He is survived by a daughter, Maris.
A funeral service will be held on Tuesday, January 16 at 10am at St Mary's Catholic Church on the corner of Ridge and Miller Street, North Sydney.