Fire News January 2008
Fire News January 2008
From the Commissioner
As we enter 2008, this issue - the second issue of the new-look Online Fire News - captures some of the highlights of the outstanding work done by our staff throughout the State during 2007.
Last October, NSWFB firefighters from nearly 50 stations across Sydney responded to a 12th alarm factory fire in Greenacre (by chance, next door to our Greenacre site) which proved to be extremely challenging. In this issue, our Operational Media Coordinator Superintendent Craig Brierley reports on this major incident and how the NSWFB handled it.
In Fire News, we will continue covering the big issues facing the NSWFB and other emergency services. Climate change is one of the issues which will directly impact on our operations, with more severe droughts, water shortages, storms and bushfires predicted. Deputy Commissioner Ken Thompson's article discusses the impact of climate change and what it will mean for Australian fire services.
2008 promises to be an exciting year for the NSWFB. Since 2003, we have laid the groundwork through restructures, re-equipping programs, new information technology and process improvements to take a leap into the future. Through Fire News and our other corporate communications, we will ensure that you are kept informed of key initiatives that we are taking. These initiatives will keep us at the forefront of emergency service delivery, and will cement our position as Australia's leading fire and rescue service.
Greg Mullins AFSM
Commissioner
Equine influenza - life in the red zone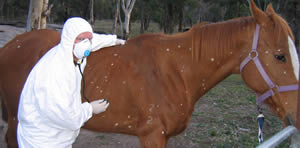 In August 2007, horse owners were hit with the news that Equine Influenza (EI) was infecting horses around NSW. Superintendent Michael Brown outlines the NSWFB's involvement in dealing with the outbreak.

In August 2007, thousands of horses around NSW were diagnosed with EI, a viral disease which causes rapidly-spreading outbreaks of respiratory disease in horses and other equine species. Like human strains of influenza, EI is an airborne virus and affects animals differently according to their age, size, and strength.

To combat the epidemic, much of the State was divided into colour-coded zones by the Department of Primary Industries (DPI) according to risk, infection rates, and the likelihood of the virus spreading. The DPI asked for the NSWFB's help in implementing the NSW Animal Health Emergency Sub-Plan to control the spread of the virus. Our role, as defined by the Plan, included:
assisting with decontamination and biosecurity measures for personnel, animals and equipment
assisting with the management and disposal of contaminated waste, in consultation with the NSW Department of Environment and Climate Change.

Horse and property owners in and around Tamworth were declared a red zone, the area of greatest concentration of EI. On Saturday 25 August, the Moonbi Showground 20 kilometres north of Tamworth was locked down by the DPI.

Around 40 horses were placed in quarantine at Moonbi Showground for eight weeks, with horse owners camping in tents and caravans at the Showground to look after their horses. During this time, permanent and retained firefighters from Tamworth and Armidale Fire Stations worked from 7am to 9pm on a rotating basis, decontaminating vehicles, machinery and personnel entering and leaving the Showground.

The NSWFB's Fleet Management Unit supplied a tanker which remained on-site for the duration of the operation, a car to transport personnel between Armidale and Tamworth, and a hazmat vehicle to assist with decontamination procedures.

For Superintendent Michael Brown, Zone Commander Regional North 3, the EI experience became a personal one.

"We have three horses so my wife and I decided to voluntarily quarantine our farm, which is located eight kilometres from Moonbi Showground. This involved changing clothes, showering before and after tending to the animals, and excluding non essential visitors to the property," he said.

Unfortunately all three horses succumbed to the virus. The outbreak was reported to the DPI Livestock Control Centre hotline and a local veterinarian was sent to the property to examine the horses. Superintendent Brown's property effectively became a 24-hour hazmat incident with the farm divided into hot, warm and cold zones and strict measures taken to limit the spread of the virus.

"We had to wear paper overalls, P2 masks, gloves and gumboots when entering the hot zone, and also set up decontamination corridors. After examining and feeding the horses, we had to disinfect boots, hands and clothes before taking a shower in order to wash away any of the virus which may have been on the skin or in the hair. And every time I left the house to go to work, I had to disinfect my shoes."

On 14 January 2008, the Assistant Minister for Primary Industries announced that NSW could be free of horse flu by mid-March if no new cases emerged. At least 50,000 horses were vaccinated as part of the eradication effort. Good biosecurity, reporting of suspect horses and sensible movement of animals were also crucial in controlling the outbreak.

Story by Superintendent Michael Brown, Zone Commander Region North 3
Photo: Superintendent Michael Brown monitoring one of his horses
Climate change creating major challenges for fire services
The Earth's climate is changing and the predicted impact is causing major concern. More research is needed in the next few years to determine the implications for emergency services. During November 2007, Deputy Commissioner Capability and Support Ken Thompson addressed more than 300 staff in Sydney on the issues of climate change, what it means for the fire services, what is being done by the NSWFB and what staff can do personally. Here, Deputy Commissioner Thompson discusses what climate change might mean for Australia and its fire services.

The CSIRO is warning that temperatures will increase between 0.4 and 2.0°C by 2030, with more rapid and severe warming of up to 7°C by 2070. CSIRO's 'business as usual' climate change projections (ie no reductions in emissions) for 2030 also include:
up to 80% fewer frost days;

66% reduction in snow cover in the Australian Alps

doubling or even trebling of days above 35°C by 2070.
Clearly, business as usual is NOT an option. Carbon emissions, drought and water issues, increased bushfire frequency and intensity, and severe storms and cyclones are some of the issues that could affect us all, both personally and professionally, and will need to be further researched in the Australian context.
Carbon emissions
If Australia introduces a national carbon pricing scheme, this will place a price on carbon through a carbon-trading scheme and/or a carbon tax. By making CO2 emissions expensive, efficiencies and less damaging alternatives will need to be found which reduce atmospheric concentrations of CO2. Examples already underway include replacing high-emission vehicles with lower-emission ones, using less polluting fuels such as bio-fuels, and increasing use of renewable energy sources. (See the next story, 'Going green'.)
Emergence of a carbon market could see the development and introduction of carbon accounting systems for fire and emergency services and increased reporting to Governments on carbon emissions and/or reductions. It could also see more emphasis being placed on the carbon emission benefits of prescribed burning compared to the high carbon costs associated with uncontrolled bushfires.
Drought and water issues
Research by the United Nations Intergovernmental Panel on Climate Change (IPCC) (see breakout box on page 9), CSIRO, Bureau of Meteorology and the Bushfire Cooperative Research Centre (CRC) project longer, more widespread, and more intense droughts for Australia. These will most likely be accompanied by increased water restrictions at the national, state and local levels. Depending on the severity of these droughts, the restrictions could impact significantly on fire and emergency services.
In the future, automatic fire sprinkler systems which reduce water consumption at structure fires (while at the same time reducing CO2 emissions) could become more widespread, particularly in residential buildings. Technologies that increase the heat-absorbing properties of water could also become more widely used, as could more efficient pump, hose line and nozzle technologies.
Increased bushfire frequency and intensity
The IPCC, the Bushfire CRC and the Bureau of Meteorology warn that the frequency of very high and extreme fire danger days could increase by as much as 25% by 2020, and as much as 70% by 2050. These projections could be further exacerbated by increased evaporation. Under these scenarios, the frequency and intensity of bushfires would increase while at the same time reducing the period available for hazard reduction.
The risks to life and property within the urban/bushland interface would also increase as bushfire risks increase. This would place pressure on fire and emergency services to increase their weight of attack in the early stages of bushfires and maintain their levels of commitment for longer periods of time under more difficult weather conditions. It could also lead to calls to upgrade existing properties in bushfire-prone areas to meet higher standards of fire protection.
Severe storms and cyclones
Scientists have predicted more intense cyclones as oceans warm, and the cyclone season extending further south. They also warn not only of more storms, but also of storms of greater severity including hailstorms. The increased likelihood and severity of these events will pose challenges for fire and emergency services, not just in response capability but also in the area of building regulations.
Current building codes only apply to existing cyclone-prone areas, not to projected cyclone-prone areas. New operational capabilities may need to be developed to address the increasing risk. Scientists are also telling us we should expect less frequent rainfall in most parts of Australia, but more intense downpours leading to flash flooding when it does occur.
Since the late 1980s, more than 2500 of the world's leading scientists in 130 countries have contributed to the largest scientific endeavour ever undertaken: to more fully understand the climate changes which are taking place. They form the United Nations Intergovernmental Panel on Climate Change (IPCC), which is part of the United Nations Framework Convention on Climate Change established in 1988.
The IPCC's Fourth Assessment Report released in February 2007 concluded that:
the average temperature of the Earth's surface has risen by about 0.7°C since 1900

the 11 warmest years on record since 1850 have occurred in the past 12 years

global average sea-level has risen 170mm since 1900 (1.7mm per year), and has been rising at 3mm per year since 1993

the upper 3000 metres of ocean has warmed, as has the lower atmosphere

the incidence of extremely high temperatures has increased and that of extremely low temperatures has decreased

the water vapour content of the atmosphere has increased since at least 1980, consistent with the theory that warmer air can hold more moisture

oceans have become more acidic due to higher concentrations of carbon dioxide (CO2).
The IPCC also concluded that the rapid rate of climate change cannot be explained by natural variation alone. They stated it is very likely (ie greater than 90% likelihood) to have been brought about by human activity. The report identified the main contributing human factors as an explosion in industrial development powered by burning of fossil fuels; agriculture and deforestation; and the enormous increase in the Earth's population from one to six billion people over the past 200 years.
Based on these and other findings, the IPCC's global projections for the 'business as usual' scenario (ie no emissions reductions) include:
average CO2 levels of 550 ppm by 2100

average temperature increases of between 1.8 and 6.4°C over 1990 levels by 2100

sea-levels to rise by 59-79cm by 2100 (perhaps more if glaciers and polar ice-caps melt faster than expected)

increasing acidification of the oceans as a result of increased CO2 absorption.
Story by Deputy Commissioner Ken Thompson, Capability and Support
Going green
The NSWFB is committed to reducing its carbon footprint. Already a number of key environmental initiatives are underway or in the process of being implemented.
Rainwater tanks are one way of reducing water consumption at fire stations in order to demonstrate that the NSWFB is taking the issue of water scarcity seriously. All new fire stations will be fitted with rainwater tanks at least 10 000 litres in size depending on site conditions. 14 existing fire stations (Goulburn, West Tamworth, Tweed Heads, Warrawong, Woollahra, Parramatta, Umina, Queanbeyan, Tamworth, Brewarrina, Botany, Gosford, Berkeley Vale and Hamlyn Terrace) will also be fitted with rain watertanks. in an initial retrofitting program.
All new fire stations will also be fitted with low-flow showers and taps, solar hot water systems and low-energy lights. Solar panels are currently being trialled with a view to incorporating them into new stations if the trial proves successful.
Our vehicle fleet is also being made more environmentally friendly. We have been using the Government's Green Vehicle Guide which ranks vehicles according to their environmental impact. This has led to the NSWFB switching to the more environmentally friendly Toyota Aurions, and using engines for new pumpers which meet the highest European emission standards that are offered by manufacturers. We also offer E10 fuel cards for users with access to petrol stations which dispense the more environmentally-friendly ethanol-blended fuel.
At present we are calculating the amount of greenhouse emissions we make compared to other emergency services. We are also conducting an energy audit on Head Office and City of Sydney Fire Station. Once this audit is complete, we plan to introduce targets designed to help reduce the NSWFB's carbon footprint and make our own contribution in the battle against climate change.
"Climate change will have a direct impact on the work of fire services across the globe with more severe droughts, water shortages and bushfires - to name just a few of the potential consequences.
As an organisation, and as individuals, we all have a responsibility to take action and to play our part.
I want to ensure that the NSWFB is a leader and not a follower when it comes to climate change initiatives."
Greg Mullins AFSM, NSWFB Commissioner, October 2007

Story by Environmental Risk Advisor, Shannon Heathcote
Join the NSWFB and see the world!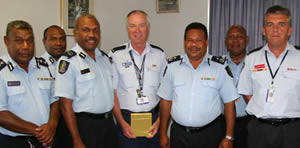 If you thought the NSWFB's most remote posting was Broken Hill you would be very mistaken – it is in fact the Solomon Islands! For the last three years, the NSWFB has been providing the islands' Chief Fire Officer.
In addition, in October 2007 NSWFB firefighters Michael Johnsen and Peter Meier returned to the islands to continue introducing an aviation fire and rescue training program. The firefighters initially travelled to the islands in April 2006 to provide the training on a four-week secondment, but had to return to Australia within a few days of their arrival in the capital Honiara due to major civil unrest.
Civil unrest is the reason why the NSWFB became involved in the Solomon Islands, which is located close to Papua New Guinea in the South Pacific Ocean. This unrest has caused much destruction and had left the islands' emergency services in tatters.
In 2003, the Solomon Islands' Prime Minister appealed to neighbouring countries for help. In response, the Australian and New Zealand governments, together with other countries, set up the Regional Assistance Mission Solomon Islands (RAMSI).
Under this program, Australian Federal Police (AFP) officers were posted to the islands to restore law and order and help reconstruct the emergency services. The Solomon Islands fire service forms part of the police force so when the AFP started rebuilding the Solomon Islands Police Force (SIPF), they approached the NSWFB for assistance. A feasibility study was carried out in 2004 and it was decided to assign a senior officer to the Solomon Islands. Inspector Darryl Dunbar was initially appointed as Chief Fire Officer and in May 2005, Superintendent Tom Milburn took over this role and was stationed in the Solomon Islands for two years.
Superintendent Milburn said, "The Solomon Islands posting has been the greatest test of my career so far, but it also was a great experience and very rewarding. When we first got out there the fire service had completely fallen down and was inoperable. Some fire stations were damaged; and the fire trucks were sitting on blocks, many beyond repair."
"We transported five new fire trucks from Australia; built an observation tower connected to the fire station at Honiara International Airport; and got the fire stations in Honiara, Auki, Gizo and Noro back up and running. We also installed 10 Community Fire Unit trailers providing portable firefighting equipment in provincial police posts throughout the Solomon Islands."
Superintendent Milburn said his most challenging time on the islands was during the 2006 Honiara riots.
"In April 2006 there were days of rioting and civil disorder and around 75 buildings were destroyed by fire. However, we were able to save a number of important community buildings and, by maintaining a neutral position, the fire service was not targeted by the looting crowds and no firefighters were injured.
"I would like to pay tribute to the SIPF firefighters who are very professional and committed to protecting life and property. This is a service Solomon Islanders can be proud of."
Superintendent Milburn said a big part of his job was spreading fire safety messages.
"The Solomon Islands is a very poor country with most buildings made of wood and grass and around 50% of the population under 15 years of age. With constant power cuts and many areas without electricity, most inhabitants use candles for light and open fires for cooking. As you can imagine, there is a constant fire danger so we introduced a program of fire safety lessons for the local population."
One of the challenges Superintendent Milburn faced in the Solomon Islands was getting around.
"The Solomon Islands cover a vast area and there are almost 1000 islands, although only a third are populated. To get around, we used helicopters, light aircraft and rubber-hulled inflatable boats."
When Superintendent Milburn completed his secondment in May 2007, he was replaced by Inspector Graham Webb.
His work was praised by SIPF's Acting Commissioner Walter Kola who said: "Mr Milburn has helped significantly to improve the fire service and left a positive legacy for all SIPF Fire Service members to follow. I thank him for his considerable efforts and wish him the best for the future."
Story by By Peter Scott, Public Affairs Officer
Photo: Superintendent Tom Milburn (4th from L) hands over to Inspector Graham Webb (2nd from R)
Firefighters bring new life into the world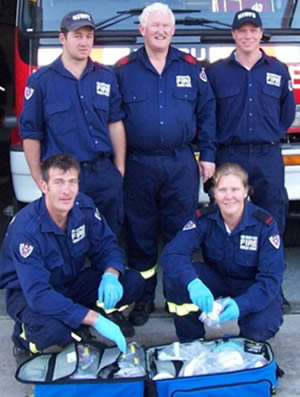 Although used to responding to medical emergencies in their medical first responder role, firefighters from Uralla were put to the test in September when they were called to the birth of a baby!
On 13 September 2007, Retained Firefighters Nicole Connolly, Peter Hooper, Michael Morrisey, Justin Fox and Clinton Paton were called to a home in Uralla where a young woman was in the advanced stages of labour.
With paramedics en route from Armidale (about 15 minutes away), firefighters arrived at the house to find the mother-to-be in a distressed state and very nervous at the prospect of delivering her baby at home.
While two of the firefighters waited outside for the ambulance, another two gathered blankets and towels, set up the oxygen resuscitator and provided ice for the woman. Retained Firefighter Connelly, who has three children of her own, put her childbirth skills into practice and helped the mother-to-be to remain calm and comfortable.
Paramedics arrived just as the baby's head was crowning and delivered the baby at around 2.18 pm. After the baby was born, the firefighters helped the ambulance officers prepare both mother and baby to be transported to hospital.
Retained Firefighter Connelly said seeing the birth of a baby was an awesome experience and one that she would never forget.
"I have been around horses and cows my whole life and have been involved with lots of births, and I have three children of my own, but this was an amazing experience.
"As medical first responders, we often attend medical emergencies, often involving older people who are very ill or people in very distressing situations. We always hope that we make a difference, so it was nice to be part of something really positive and special," she said.
Story by Tammy Ingold, Public Affairs Officer
Photo by Superintendent Michael Brown
Firefighters respond to Lismore hailstorm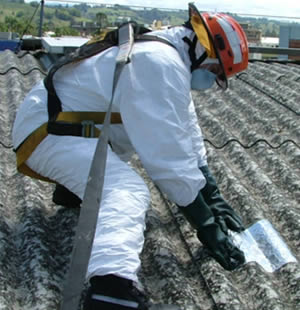 On 9 October 2007 Lismore was hit by a massive hailstorm which caused extensive damage to the town. A Natural Disaster Area was declared and some 650 jobs were reported to the State Emergency Services (SES).
Fire crews from Lismore, Goonellabah, Casino, Tweed Heads, Ballina and Brunswick Heads Fire Stations assisted the SES in responding to the emergency. The NSWFB handled over 120 of these jobs, with most of the work completed by Saturday 13 October. Most of the work involved repairing damage to roofs, windows and tarpaulins.
A pumper and tanker from Lismore and a hazmat appliance from Goonellabah were in attendance throughout the emergency. On Wednesday, Thursday and Friday Goonellabah supplied a pumper and Casino supplied a tanker. Tweed Heads and Ballina supplied tankers on Thursday and Friday and Brunswick Heads supplied a tanker on Wednesday and Thursday. Two privately-owned elevated work platforms were also used.
See next issue for a report on the NSWFB response assisting SES with recovery from the December 9 hailstorm in Western Sydney.
Story by Inspector Chris Fabri, Duty Commander, Regional North 2
Photo: Repairing hail damage on a Lismore roof, photo by Inspector Chris Fabri
New response procedure following Newcastle ship emergencies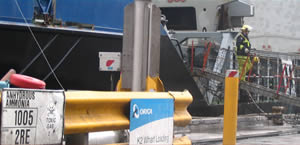 The NSWFB is working with the Newcastle Port Corporation and explosives manufacturer Orica to produce a response procedure for dealing with ammonium nitrate accidents on ships using the Port of Newcastle. The response procedure is being drawn up following two recent emergencies involving vessels carrying ammonium nitrate, which is used to make explosives.
The first emergency occurred on 8 February 2007 when fire broke out in the engine room of the container ship, the Baltimar Boreas, shortly after it left Newcastle. The ship was carrying a cargo of mining equipment and 900 tonnes of ammonium nitrate at the time. The fire left the ship drifting without power out to sea off Port Stephens.
Although the ship's crew had extinguished the engine room fire, due to the risk of an explosion, it was decided the Baltimar Boreas should not be allowed back into Newcastle until the NSWFB had thoroughly checked the vessel. A crew from Newcastle Fire Station were transported out in a pilot boat and made a hazardous transfer to the Baltimar Boreas as both vessels rocked in the two-metre swell.
Once on board, the firefighters checked the entire ship and cargo for any sign of heat or fire using a gas detector, thermal imaging camera, search cam and laser thermometer. After carrying out a thorough inspection, they gave the 'all clear'. A tug then towed the ship back into Newcastle Harbour where its cargo was unloaded and the vessel moved to a remote part of the Harbour for repairs.
The second emergency happened on 11 July 2007 when hydraulic fluid leaked from a crane into the hold of the cargo vessel Priam during the loading of a cargo of ammonium nitrate. The 1.2 tonne bags of ammonium nitrate were stacked three-deep in the hold and the leaking oil had contaminated bags on top of the stack and had also seeped down to the bottom of the hold - potentially an explosive mixture.
Firefighters from Newcastle, Mayfield West, Belmont, Boolaroo, Carrington, Hamilton, Lambton, Minmi, New Lambton, Tarro and Waratah Fire Stations responded to the incident. Inspector Greg Windeatt was Duty Commander at the scene.
"The first arriving fire crews determined that around 200 litres of hydraulic oil had leaked into the ship's hold but were initially unable to establish the level of contamination," said Inspector Greg Windeatt. "Atmospheric testing was conducted but no readings were present. Potential ignition processes/sources for fire were shut down and isolated. After liaison with other involved agencies, a one-kilometre exclusion zone was also established to protect public safety."
With the arrival of daylight and the Incident Management Team led by Assistant Commissioner Bob Dobson, Director Greater Metropolitan Operations, wharf crews and a land crane were brought in to unload the cargo so the spill could be cleaned up while the NSWFB provided fire protection.
This involved two firefighters wearing breathing apparatus with two 38 mm charged lines of hose. One was positioned in the hold with the wharf crews, the other on the deck with an overview of the situation. Once the floor of the hold was uncovered, the leaked oil was then absorbed with sheeting supplied by the NSWFB's Newcastle Hazmat Unit.
Story by Peter Scott, Public Affairs Officer
12th Alarm factory fire at Greenacre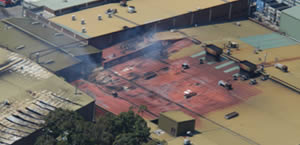 Last October, more than 130 firefighters from 46 stations across Sydney responded to a major factory fire which proved to be the most challenging since the 13th Alarm building fire in Lidcombe in November 2006. The NSWFB's Operational Media Coordinator Superintendent Craig Brierley reports on how the emergency unfolded and the NSWFB's response.
On Monday 8 October 2007, Bankstown Fire Station was called to an automatic fire alarm at the Primo Smallgoods factory in Greenacre. Over the course of the next few hours, what was initially a two-pump response to an automatic fire alarm quickly escalated to a 12th Alarm factory fire which required a quarter of the NSWFB's Sydney-based resources.
The fire started in packaging machinery in the front section of one of the two large buildings in the complex. The fire quickly took hold and spread through sandwich panelling which lined an interconnected conveyor belt shaft to the neighbouring building. Due to the spread of fire between the two interlinked buildings, the Incident Management Team (IMT) split the fireground into two divisions.
Firefighters on scene faced various challenges. Sandwich panelling had been used as insulation throughout the two buildings on site. It lined the outer perimeter walls and partitioning walls, and was also used as a suspended ceiling. The panelling was made of two layers of aluminium sheeting with a thick layer of polystyrene foam in the centre which intensified the fire and caused it to spread rapidly. Because of this panelling, firefighters found it extremely difficult to contain and track the spread of fire.
The tactics used by the first arriving crews and supported by the initial IMT officers were an offensive internal attack to try and contain the fire from escalating and spreading to other parts of the building. These tactics were maintained until internal operations became untenable due to the immense heat and fire intensity. The use of thermal imaging cameras was vital during all facets of the operation, which at one stage involved 11 cameras being used over both Divisions.
The partial collapse of the roof as well as two external walls, one made of brick and the other prefabricated concrete, limited access into the factory. The safety risk to firefighters worsened as other large areas of the factory were also at risk of collapsing. Firefighters set up collapse zones and adopted defensive firefighting strategies, fighting the fire from outside the building. Three aerial appliances with a reach of up to 37 metres were used to penetrate the partially-collapsed roof and walls with jets of water. Fire crews also set up numerous handlines and ground monitors on the ground outside the factory to help contain the fire.
Other hazards faced by firefighters included a two-tonne cylinder and a four-tonne cylinder of anhydrous ammonia used in the refrigeration process, as well as tanks of freon gas, liquid oxygen, carbon dioxide and acetylene. In consultation with the onsite engineer, firefighters were able to identify and isolate those hazards which posed a risk. Atmospheric monitoring by Hazmat crews confirmed that there were no increased levels of toxins during the incident. Crews monitoring the billowing smoke plume and water run-off worked with the Department of Environment and Climate Change to limit harm to the environment.
On Tuesday 9 October, structural engineers from the Department of Commerce and the IMT thoroughly inspected the factory and identified areas of the building which were safe to enter. Under strict supervision from fire crews, company workers were allowed to go inside and salvage stock and equipment from the factory.
On Wednesday 10 October, pockets of fire were still burning underneath rubble and a large internal concrete slab which had collapsed. Firefighters could not access the pockets of fire because the factory was structurally unsound. In consultation with civil engineers, the factory owners brought in excavators to remove the rubble and concrete slab so firefighters could access and extinguish the fire.
Incident Controller Acting Assistant Commissioner Mark Whybro said it was one of the most difficult and challenging fires he had attended for quite some time. "More than a quarter of our Sydney-based resources responded to the incident because of the different elements we had to take into consideration, like the insulated sandwich panelling, the risk of structural collapse, hazardous materials and the layout of the building itself."
Safety on the fireground was overseen by Operational Safety Coordinator SO Janine Bailey and Medical Officer Dr Caron Jander. This particular fire highlighted the enormous physical and mental demands which firefighters face as well as the importance of rehabilitation for prolonged fires. Sector Commander Superintendent Terry Farley said, "The health and safety of fire crews is vital and even more so at an incident of this size. Through good incident management and firefighting techniques, no-one was injured."
The NSWFB provided a large resource commitment which at its peak involved 24 pumpers. There were three aerials, Hazmat, Heavy Hazmat, Incident Command, Rescue and USAR (Urban Search and Rescue) appliances, as well as a large number of senior and specialist officers in IMTs. Throughout the incident, firefighters constantly liaised with the building managers and engineers.
Story by Superintendent Craig Brierley, Operational Media Coordinator
Photo: Aerial view of the fireground, Photo by Andrew Ticehurst, NSWFB Aviation Officer
New retained recruitment marketing campaign launched in Coffs Harbour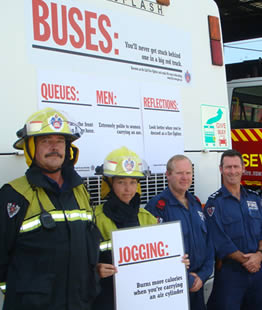 In many areas of NSW, recruitment and retention of firefighters is becoming more difficult due to a variety of factors including an ageing population and other demographic changes, drought and economic change impacting on rural communities, and the changing nature of work.
To meet these challenges, a new retained recruitment marketing campaign was developed and rolled out across the State late last year. On 31 October 2007, Coffs Harbour firefighters joined the Regional North management team to launch this campaign.
The new campaign, which includes bus and newspaper advertisements, posters and postcards, was developed in consultation with retained firefighters and advertising agency Clemenger. The campaign uses humour and short and simple messages to capture people's attention and to encourage them to become a retained firefighter.
Assistant Commissioner Mark Brown, Director Regional Operations, said that the new campaign was deliberately designed to be different from previous retained recruitment marketing. "This new campaign takes us in a new direction by targeting a younger and more diverse audience. We need to promote the benefits of becoming a retained firefighter to younger people, women, and people from indigenous and ethnic communities because the strength of our retained brigades will depend on the commitment of these groups in the future," he said.
Advertisements were run on buses in Grafton and Lismore, Port Macquarie, Orange and Bathurst; and posters and postcards were delivered to zone offices around NSW for use in recruitment as required. Radio ads are available from the Public Affairs and Communication Strategy Unit (PACSU) and can be forwarded to local radio stations on request. PACSU can also provide media releases to help promote the new campaign in a local area.
For further information on the new retained recruitment marketing campaign contact Karen Bode, Human Resources Manager, on (02) 9265 2757.
Radio Advertisment 1 (mp3, 401KB)
Radio Advertisment 2 (mp3, 401KB)
Radio Advertisment 3 (mp3, 402KB)
Radio Advertisment 4(mp3, 356KB)

Story by Tammy Ingold, Public Affairs Officer
Photo: Firefighters promote the new campaign, photo by Superintendent Michael Guymer
The dangers of acetylene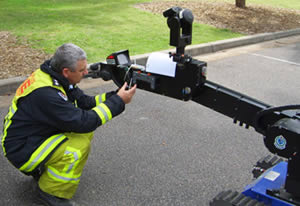 Acetylene is widely used and acetylene cylinders have been found by firefighters in domestic garages, workshops and shipping containers, even rolling around in the back of a truck! However, acetylene poses major risks to firefighters and the community if it is not handled properly. Based on increased knowledge about this dangerous gas and the risks it brings, the NSWFB has introduced new operational guidelines. The NSWFB's Manager Operational Policy and Procedures, Superintendent Chris Shapter, reports on these new procedures.
An acetylene cylinder is an unknown quantity because there are no telltale signs about what is actually going on inside - the gas can decompose when heated or disturbed and this process can go unnoticed. How can firefighters possibly know the history of an acetylene cylinder? Or how can they know its age or whether it has been dropped or damaged before?
From incidents like these, and through extensive research and knowledge gained here and overseas, the NSWFB has implemented more stringent procedures to ensure the safety and protection of firefighters and the community. As part of the new procedures for incidents involving acetylene cylinders, fire crews should:
establish a 200-metre exclusion zone and evacuate people from the immediate area
maintain a hot zone for 24 hours or until the area is rendered safe
notify and request the presence of Hazmat, NSW Police and the gas company which owns the cylinder
cool the cylinder with a water monitor for two hours from behind a protective cover
after two hours, check the cylinder for venting and conduct a thermal check.
Using the new procedures at a garage fire in Guildford

No sooner were the new procedures in place than firefighters from Guildford, Chester Hill, Lidcombe, Merrylands, Parramatta, Burwood, Silverwater, Rescue and Hazmat were called to an incident in Guildford. What began as an ordinary domestic garage fire ended up as a protracted incident once fire crews were told there were two acetylene cylinders inside. Firefighters immediately set up a 200-metre exclusion zone and evacuated 120 people from the area while NSW Police closed surrounding roads. Ambulance officers remained on standby at the site in case of injury and to address any health concerns.
Crews set up ground monitors, enabling the fire to be contained and allowing fire attack crews to withdraw to the forward control point. Firefighters then focussed on directly cooling the acetylene cylinders by reducing hose lines to 38 mm. Only the tops of the cylinders could be seen because the garage had caved in, so another form of heat testing had to be adopted.
Firefighters called in the NSW Police Bomb Disposal Unit to use a robot to assist in monitoring and rendering the cylinders safe. However, due to the degree of structural collapse, the Police robot could not gain access to the cylinders, so a Police Bomb Disposal Technician put on a bomb protection suit and got close enough to inspect the cylinders and conduct temperature testing. Two checks 30 minutes apart showed that the cylinder temperature was 25°C and the fusible plugs had functioned to discharge the cylinders' contents. This meant that firefighters could safely place the cylinders in hazmat bins filled with water for the gas company to pick up the next day.
Acetylene often bubbles continuously for hours and sometimes days after an incident. Firefighters from Cabramatta and Liverpool Fire Stations experienced this in August 2007 when they responded to a shipping container fire at a building site in Chipping Norton. Inside the container was an acetylene cylinder that had vented, but was still bubbling hours after the incident, indicating there was still gas inside. However, as the cylinder had vented, the presence of gas was minimal and therefore did not pose an explosion risk.
The NSWFB knows a lot more today about the dangers of acetylene than it did five years ago. The new procedures will continue to be adapted as more is learned about acetylene.
Story by Superintendent Chris Shapter, Manager Operational Policy and Procedures
Photo: Superintendent Chris Shapter attaches a thermal imaging camera to an arm of the Police Bomb Disposal Unit's remotely-operated vehicle
NSWFB takes part in Japanese USAR exercise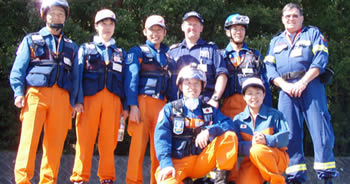 In October last year the NSWFB and Queensland Fire and Rescue Service (QFRS) took part in a major Urban Search and Rescue (USAR) training exercise in Japan. The exercise was organised by the Japan International Cooperation Agency (JICA) with the Joint Japan Disaster Relief Team and was held at Komagane from 1-5 October 2007. The two fire services were invited by the Japanese Ministry of Foreign Affairs to each send observers to the exercise in order to provide feedback, instruction and guidance.
Senior Firefighter Mick Holton, Senior Instructor Rescue, was selected to represent the NSWFB. SF Holton has been with the NSWFB since 1987 and has spent most of his career in rescue. He has been an instructor for over five years.
"I was chosen because the NSWFB wanted to send someone with a good understanding of the nuts and bolts of rescue work," he said. "It's the first time I have done something like this although I have represented the NSWFB at rescue competitions in the USA and Canada."
SF Holton said he learnt a lot about Japanese rescue techniques from the exercise. "The Japanese have exceptional team working skills and are very disciplined. They are also very mobile and have a different capability to us, being less gear-intensive. However, this lightweight philosophy comes at a cost as many operational options were not available during the exercise. We also found that their training aids and props were not as realistic as ours."
After the exercise SF Holton gave a presentation on Australia's USAR capability. "My presentation highlighted the importance of establishing training aids and props that simulate realistic scenarios with a wide range of unexpected challenges to test the ability of teams to solve scenario-based problems," he said.
SF Holton and the QFRS representative Acting Superintendent Gary Littlewood participated in exercise debriefs with senior representatives from the Japanese Ministry of Foreign Affairs, JICA, Fire, Police, Coast Guard and Logistics. They discussed how the Japanese teams could better prepare for deployment, their training techniques and props simulation. Ministry and JICA representatives were invited to visit Australia during USAR courses and to attend a national counter-terrorism exercise in October 2008. A Mutual Aid Agreement with Japan in the areas of training and deployment was also discussed.
There is much to be learned from Japan, as Japanese USAR teams have deployed to many of the world's worst disasters.
Photo by Peter Scott, Public Affairs Officer
Photo: Japan Disaster Relief Team trainees with Mick and Gary
Bushfire Cooperative Research Centre Community Fire Unit program research
The Bushfire Cooperative Research Centre (CRC) has undertaken a major research project in conjunction with staff from the NSWFB's Community Fire Unit (CFU) program. Coordinated by Tom Lowe from RMIT University, the research investigated key issues of the urban/bushland interface. It looked at the implications of the CFU approach to recruiting and retaining volunteers within at-risk communities and the different approach taken by the CFU program compared to other bushfire-related community education programs in Australia.
The NSWFB not only empowers and educates high-risk urban communities, but also equips them with the training and resources required to protect their homes from bushfires in collaboration with local firefighters. The CFU program is now widely considered best practice in terms of communication and cooperation between State Government, fire services and community groups.
The CRC's research aims to understand the nature, effectiveness and future capacity of this approach to community preparedness and risk reduction. The continued growth and popularity of the CFU program is a sign that urban interface communities are becoming more aware of bushfire risks and are taking advantage of the training and resources available to them.
The research was finalised in late 2007. The final report will be distributed to fire agencies, emergency services and organisations interested in community fire safety education in early 2008.
Story by Superintendent Gerry Byrne, Manager Bushfire/Natural Hazards
CFU portal
In response to extensive research and analysis, a CFU portal is being developed to provide clear communication channels between CFU volunteers and the NSWFB. The portal is a web-based tool which will provide better links between the NSWFB and CFU members. The portal will be interactive and will give CFU members the opportunity to communicate online with the NSWFB.
CFU volunteers will access the portal via a CFU homepage on the NSWFB's Internet website. Once logged in, volunteers will enter the CFU portal which will display the details of their particular unit. Members will also be able to view information which is relevant to them or specific to their particular unit, for example fire weather warnings, bushfire and general community safety messages.
The portal was trialled in a test phase in December 2007 and will be rolled out to an initial 700 CFU volunteers early in 2008.
Firefighters from Dubbo train new members for Taronga Western Plains Zoo CFU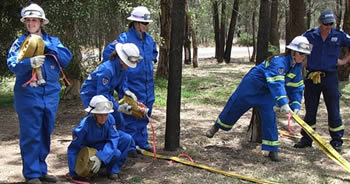 On 21 November 2007, firefighters from Dubbo Fire Station A platoon conducted skills acquisition training for five new members of the Taronga Western Plains Zoo CFU unit. The new members are zookeepers and are an integral part of the unit which was established in 2001. It is the only CFU in NSW to be made up entirely of employees from one organisation. As well as the CFU trailer, the unit also has a 2000-litre demountable water tank with hose reels in case of fire and emergency calls at the zoo, which contains a large area of native bushland.
On Tuesday 29 January 2008, the Minister for Emergency Services, Nathan Rees, visited the Zoo to welcome the five new members to the team. He was joined by Chief Superintendent Neil Harris (Area Commander Regional West), the Regional West 1 Zone Management Team, representatives from the Bushfire and Natural Hazards Unit and representatives from the Zoo for a short ceremony during which Minister Rees presented the new members with their uniforms. The new members also put their new skills into action during a short demonstration, ably assisted by firefighters from Dubbo Fire Station (C Platoon). The five new members will join the 16 existing members of the Zoo's CFU in preparing the zoo and its animals to deal with the threat of bushfires.
Story by Station Officer Stephen Knight
Photo: New CFU volunteers practice some new skills, Photos by Station Officer Stephen Knight
Baptism of Fire for West Albury CFU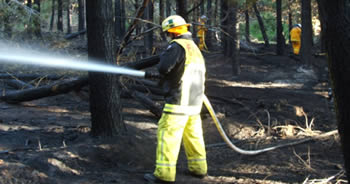 On 15 November, the CFU based at Klinberg Court, West Albury was activated for the first time. Wollongong Communications Centre had received numerous 000 calls about a bushfire burning behind houses in Florence Street. NSWFB firefighters from Albury Civic and Albury Central Fire Stations and the Rural Fire Service brigade from Lavington were responded.
On arrival, fire crews found that an area of pine plantation on the western side of Nail Can Hill was alight. The fire had the potential to impact on homes in Klinberg Court, located on the eastern side of the hill.
SF Stephen Osmand from Albury Central is also a member of the Klinberg Court CFU and was off-duty at the time of the fire. He liaised with SO Daniel Humphrey from Albury Central and they agreed that the CFU could significantly assist fire crews. Hence the CFU was activated, with six CFU members responding to the call. As the leader of the CFU was not available, SF Osmand acted as a CFU member in a supervisory role.
The CFU members got to work sourcing water from a hydrant located in Klinberg Court, using four lengths of 38 mm hose which was split into two separate lines of 38mm hose directed in a northerly and southerly direction. Their involvement lasted approximately 90 minutes.
The incident reinforced the value of CFU, not just as a physical resource but also as a valuable vehicle for community engagement.

Story by SO Greg Lynch, 203 Albury Central
Photo: NSWFB and RFS crews mop up after the fire, Photo by Captain John Vandeven
Encourage your community to have a fire-safe summer
This summer the NSWFB has launched fire safety initiatives focusing on the festive season, children, caravans and camping.
At this time of the year when Christmas celebrations are combined with the hot weather and holiday season, there are some important messages we need firefighters to promote in their local communities.
In early December 2007, the NSWFB launched its festive season campaign which encouraged the community to check their Christmas tree, decorations and lights. Tips included:
make sure artificial Christmas trees are fire-retardant
never use candles near the tree
ensure trees do not block exits
when setting up fairy lights and other electric novelties, don't overload power boards or piggy-back double adaptors
check lights before using and don't use if cords appear damaged
ensure decorative lights used outside are designed for outdoor use.
In January 2008, the NSWFB will focus on camping and caravan safety. Our campaign for this month will concentrate on encouraging holiday-makers to get photo-electric smoke alarms installed in their caravans and to have an escape plan. Other camping and caravan fire safety tips to pass on to holidaymakers include:
make sure gas cylinders are located outside caravans, and are secured with valves facing away from the van
place extinguishers near sleeping areas for easy access
locate fire blankets near cooking facilities
make sure campfires are in a clearing, a safe distance away from tents and caravans, and are fully extinguished after use
ensure tents are flame-retardant.
In February 2008, the NSWFB will concentrate on children's fire safety. Children have a natural curiosity and reduced sense of danger. These factors, when combined with access to matches, lighters and other fire-starting implements, can considerably increase risk to the children, their families and property. Encourage parents to protect their childern by:
keeping lighters and matches secure
watching for evidence of fire play, such as burns on bedding or clothing, or fire-starting devices in children's pockets
talking to the local school about participating in the FireEd program
closely supervising children when fires are being used
contacting the Intervention and Fire Awareness Program (IFAP) if the child appears to have a fascination with fire.
Summer Fire Safety Checklist
At the beginning of December, the NSWFB, in conjunction with sponsor AAMI, issued the Summer Fire Safety Checklist. As well as looking at camping, caravan and children fire safety, the checklist contains important bushfire and 'away from home' safety messages.
The key message for people living in bushfire-prone areas is that in the event of a bushfire, they must decide in plenty of time whether to stay and defend their property or to evacuate to a safe location. People should be advised how to reduce fuel loads around their house. They should also be warned about the dangers of ember attack which can affect properties up to 1.5 kilometres away from the actual fire.
The checklist summarises what to do before going on holiday. This includes turning off all unnecessary appliances; making sure that any electrical items left on are in good working order and have the correct wattage; and letting neighbours know when you will be away.
Calendars have been distributed to NSWFB fire stations and are also available from AAMI outlets across NSW. The calendars are ideal handouts for fetes and shows as well as school and community visits. For additional copies of the calendar, contact Community Safety on (02) 9742 7400.
Story by Superintendent Greg Wild, Manager Community Engagement and Development
Photo by Sam Kelliher, Public Affairs Officer
Newcastle Mattara Festival
The Mattara Festival, a celebration of Newcastle city, is an annual nine-day cultural event held on the Newcastle foreshore. During the latest Festival which ran from 29 September to 7 October 2007, NSWFB firefighters and Community Fire Unit (CFU) volunteers were able to spread key fire safety messages at a safety display run jointly with the Rural Fire Service (RFS). The display covered all aspects of fire safety education. The NSWFB highlighted its specialised roles such as building fires, fire safety in the home, smoke alarms, hazmat operations and CFUs. RFS members focused on bushfire safety and bushfire preparedness around the home.
Due to the length of the Festival, crews from all platoons at seven NSWFB stations as well as CFU volunteers were involved in staffing the NSWFB component of the safety display. Over 30000 people attended the festival, and firefighters and CFU members were kept busy answering questions, providing advice and handing out thousands of fire safety and community education brochures. The NSWFB's miniature fire engine and a working model of a hazmat incident also proved big hits with visitors.
A joint NSWFB and RFS fire safety presentation which was delivered daily on the Festival's main stage, proved very popular. Kids of all ages were taught about dialling 000 (Triple Zero); Stop, Drop and Roll; and Get Down Low and Go Go Go. On the last day, the Festival concluded with an impressive Grand Parade which included the four appliances from Newcastle Fire Station.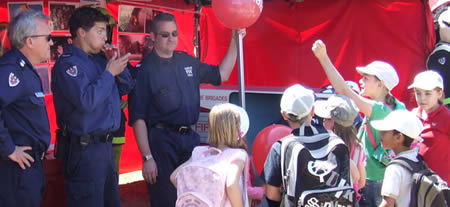 Story by Firefighter Des Hanrahan
Photo: Station Officer Steve Gleeson, Senior Firefighter Adam Parer and Senior Fire Fighter Brett Hickey educating the local children at the Mattara Festival, Photo by Firefighter Desmond Hanrahan
Reduced fire risk cigarettes another step closer to becoming law
The campaign to make reduced fire risk (RFR) cigarettes compulsory has taken a major step forward with the Australian Competition and Consumer Commission (ACCC) publishing a draft Regulation Impact Statement (RIS).
The advantage of RFR cigarettes is that they go out much faster than conventional cigarettes when smokers are not puffing on them. The NSWFB has lead in the campaign to have RFR cigarettes introduced into Australia. We represented the Australasian Fire Authorities Council and all Australian fire services on a committee to develop a new Australian Standard on RFR cigarettes; this standard was published in March 2007. The ACCC is now consulting the NSWFB along with other major stakeholders before issuing a formal RIS for public comment.
Chief Superintendent Jim Smith, who has been heavily involved in the NSWFB's push for RFR cigarettes, commented, "The ACCC's draft Regulation Impact Statement is a major step forward. It means that we are probably looking at a formal RIS in early 2008 and a regulation coming into force in 2009. That is great news when you consider that fires attributed to cigarettes are the leading cause of accidental fire deaths in Australia. It is estimated that introducing RFR cigarettes in Australia would reduce fires caused by cigarette by 34 to 68%."
Research carried out by the Victorian Institute of Forensic Medicine on behalf of the NSWFB identified 67 deaths across Australia in cigarette-related fires between 1 June 2000 and 30 June 2006.
Chief Superintendent Smith said that RFR cigarettes greatly reduce the risk of fires from discarded cigarettes in the home and in the bush.
"Every year many fires are caused by smokers falling asleep while smoking in bed. Discarded cigarettes thrown out of car windows are also a major cause of bushfires. If RFR cigarettes were introduced in Australia, it would greatly reduce the number of cigarette-related fires and save lives. In a number of American states and in Canada, RFR cigarettes are already law and they have experienced a big fall in cigarette-related fires."
The NSWFB has produced a video showing how much more dangerous a regular cigarette is compared to a RFR cigarette. The video shows a test which was conducted at the NSWFB's Training College in Alexandria. In the test, a lit RFR cigarette and a lit regular cigarette where placed on cotton material next to polyester cushions. The RFR cigarette self-extinguished within 10 minutes while the conventional cigarette caused a fire in less than 18 minutes.
Reduced fire risk cigarettes video(MPEG 4.48MB)
Story by Peter Scott, Public Affairs Officer
Video by Phil Brown, Acting Multimedia Officer
Specialist fire and hazmat vehicles enhance NSWFB capabilities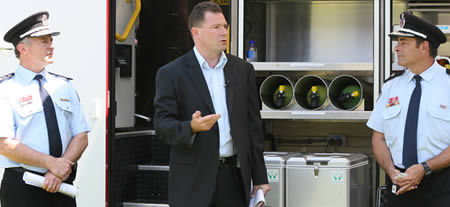 Over the next four years, six Heavy Hazmat vehicles and up to 65 Class 3 urban pumpers valued at $500 000 each will be delivered to fire stations across NSW. These vehicles will give firefighters the latest in technology, equipment and operational facilities, significantly boosting fire and emergency protection across the State.
The first two Heavy Hazmat vehicles have been delivered to Greenacre and Berkeley Vale and the remaining four will be delivered to Newcastle, Alexandria, Shellharbour and St Marys. These vehicles and the equipment they carry are vital in preventing environmental disasters which could result from fires and hazardous material emergencies. The Heavy Hazmat vehicle has:
a complete set of standard hazmat equipment including 15 different gas and radiation detectors
a weather station
facilities on board for firefighters to take samples and analyse different chemicals
protective clothing including 12 fully encapsulated suits and six spillage suits
hydrocarbon skimmers
air-inflated containment booms
decontamination systems
two lengths of 38 mm hose for decontamination purposes
6 kW lighting to light up an incident scene
16 kVA generator driven by a hydraulic control system
the capacity to recover 1400 litres of liquid contaminant, including absorbents to clean up chemical and fuel spillsan air-conditioned office in the back of the vehicle including a PC, fax and other communications equipment so that firefighters can carry out analysis at an incident
1000 kg tailgate at the back of the vehicle to bring heavy equipment into and out of the equipment storage area.
The Minister for Emergency Services, Nathan Rees, officially handed over the first new Heavy Hazmat and Class 3 urban pumper to firefighters at a special event held at Matthew's Park in Greenacre on Monday 19 November. The new Class 3 pumper has been specifically designed for firefighting in metropolitan areas and incorporates:
a high-pressure pump that supplies up to 4000 litres of water per minute for firefighting operations
a foam system to fight chemical, petrol and bush fires
an electronic message board on the back to warn motorists of emergency operations
a global positioning system unit.
The pumper is built to the latest European environmental standards and will help to reduce the NSWFB's greenhouse gas emissions.
Story by Debbie Sinclair, Public Affairs Officer
Photo: L to R: NSWFB Commissioner Greg Mullins, Minister for Emergency Services, Nathan Rees and Superintendent Rob McNeil
Electronic timesheets for retained staff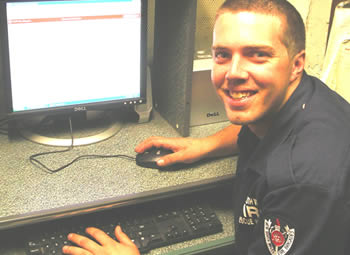 The NSWFB's IT Directorate has developed and introduced the Brigade Automated Retained Timesheets (BART) program to over 220 fire stations, allowing retained firefighters to enter their time sheets electronically.
Sean Nairn, IT Program Manager, said BART had several advantages over the old paper-based system.
"BART allows retained staff to record their attendances and activities directly into the NSWFB's electronic payroll system via their station PCs instead of filling out paper timesheets each month. These paper timesheets were very time-consuming as they had to be manually entered into the payroll system. BART also speeds up payment for activities carried out by retained staff and provides more up-to-date reporting."
BART was rolled out in retained fire stations between June and November 2007. Zone IT Trainers visited affected fire stations to show firefighters how the new system worked.
The introduction of broadband Internet access to regional fire stations around the same time as BART has helped the program's take-up as web connection times are much faster than they were with the old satellite connection.
Story by Peter Scott, Public Affairs Officer
Photo by Vanessa Middleton, Admin Services Coordinator
The science of driving fire appliances
The NSWFB's Appliance Training Unit has produced two new DVDs to help train firefighters in the special skills needed to drive 4 wheel drive and heavy vehicles.
Station Officer Leo McCrory, Manager Appliance Training, said these new DVDs would prove useful learning tools. "Our objective at Appliance Training is to supply the NSWFB with safe and highly-trained operators. These DVDs will act as useful supplements to the face-to-face and practical training we provide," he said.
The Heavy Vehicle Competencies DVD covers a whole range of competency requirements, including pre-departure checks, parallel reverse parking procedure, lane positions for turning and at roundabouts, and leaving a four second 'response gap' behind the vehicle in front.
SO McCrory said the DVD had generated interest from the NSW Roads and Traffic Authority (RTA). "The aim of the Heavy Vehicle Competencies DVD is to teach drivers some of the core competencies required to obtain a heavy vehicle licence. The DVD has been well received and the RTA is interested in using the DVD to help with its heavy vehicle driving training."
The 4WD DVD is called Off Road Driving. Superintendent Gray Parkes, Manager Professional Development Unit, said the objective of the DVD was to improve driver confidence when driving off-road. "Off Road Driving looks at the key requirements needed to make a good 4WD driver. These include alertness, good judgement and a knowledge of the limitations of the vehicle. The full range of techniques required to deal with different terrain are covered in the DVD, including driving on sand, in water, on a slope and through mud."
Story by Peter Scott, Public Affairs Officer
A safe working environment
Review of PPE handling leads to safety improvements
As a result of studies into the NSWFB's Compartment Fire Behaviour Training (CFBT) program, independent research was commissioned last year to understand if there are any potential adverse effects from exposure to chemicals during this training.
Independent assessor Heggies Pty Ltd undertook the study with the agreement of the Fire Brigade Employees Union. The results were peer-reviewed by the CSIRO to ensure the methodology and findings were robust.
The study results found that with the correct use of personal protective equipment (PPE) and breathing apparatus, there was unlikely to be any exposure to hazardous substances at a level which would present either short-term or long-term health effects.
As a result of this study, the NSWFB implemented a review of its PPE handling procedures during CBFT and relevant Standard Operating Guidelines to ensure any possible contamination pathways are mitigated.
One outcome of this project will be dissemination of key safety messages to assist all firefighters in understanding how they can reduce the potential risk from fire contaminants. A poster showing practical measures to minimise contamination is currently under production, and will be distributed in the near future to all fire stations.
Occupational Health & Safety Messages
The NSW Fire Brigades takes the health, safety and welfare of all personnel very seriously and one initiative to bring the health and safety message to the forefront of the thinking of all staff has been the commissioning by the OHS Steering Committee of a series of safety posters to highlight areas where more attention may be required.
The first poster of the series highlights slips, trips and falls as a hazard not only on the fire ground but also in the station or office. Slips, trips and falls are a major cause of injury and lost time to NSWFB staff.
Story by Kate Dennis, Assistant Director Public Affairs
Centenaries
On 10 November 2007, Campsie Fire Brigade celebrated a century of exceptional service at a special event held at the Beamish Street Fire Station. Commissioner Greg Mullins joined the State Member for Canterbury Linda Burney, members of the Campsie community and firefighters past and present to celebrate this important milestone.
Campsie Fire Brigade was formed in 1907 with 10 volunteer firefighters who had a hose and a hose reel which they pulled to fires. Today there are 20 firefighters stationed at Campsie who respond to more than 1160 emergency calls a year.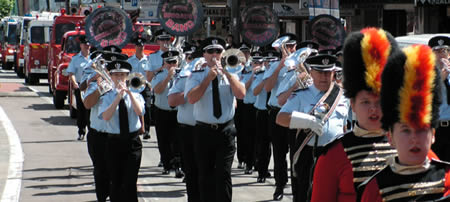 In recent years the Brigade has received two Unit Commendations for Meritorious Service. In 1999, firefighters from C platoon were called to an overturned petrol tanker in Beverley Hills that had caught alight. The tanker had 40 000 litres of petrol on board which posed a major risk to firefighters and the public. The crew took initial actions which ensured the fire was successfully contained and extinguished.
In 2002, Campsie was one of four stations which responded to a six-storey fire and rescue in Government offices in Ashfield. The building was filled with thick black smoke and there were numerous casualties and people reported missing. Despite the extreme conditions, firefighters from D platoon helped to rescue several people from the burning building and to extinguish the fire.
Story by Superintendent Gary McBain, Zone Commander Metro East 3
Photo: NSWFB Band march along Beamish St, Campsie
Refurbished stations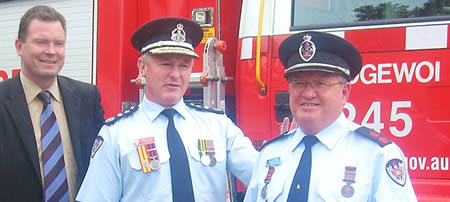 On 10 November 2007, the Minister for Emergency Services Nathan Rees and Commissioner Greg Mullins officially opened the newly refurbished Budgewoi Fire Station. The station's $409 000 upgrade included a second-storey addition with a recreation room, training area, staff facilities and change room.
After the opening ceremony, Commissioner Mullins presented Budgewoi's Captain Bruce Simpson with the Second Clasp to his National Medal in recognition of his long service and good conduct. Captain Bruce Simpson has been a firefighter at the station since it officially opened in 1971 and has been Captain for the last 33 years.
Budgewoi firefighters also unveiled a plaque in memory of Retained Firefighter Phillip Viles who passed away while fighting a house fire in 2004. Retained Firefighter Viles joined the NSWFB on 1 May 2003 and is sadly missed.
Story by Superintendent Keith King, Zone Commander Metro North 2
Photo: L to R: Minister for Emergency Services Nathan Rees, NSWFB Commissioner Greg Mullins and Captain Bruce Simpson, Photo by Maria James, Events Coordinator
Recruit graduations
After successfully completing the NSWFB's 16-week recruit training course, 39 new permanent firefighters graduated from the State Training College in Alexandria in ceremonies on 25 October and 6 December 2007. This brought the number of permanent firefighters joining the NSWFB last year to 137. The graduates from Class 3/2007 had already seen action before their graduation ceremony after being called on to help fight the bushfires in early October.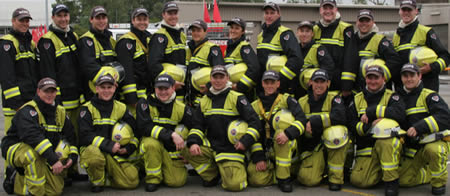 Class 3/2007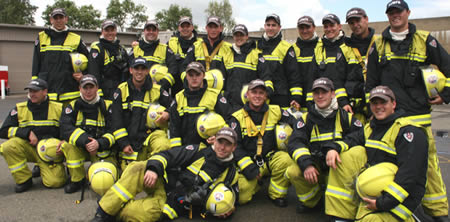 Class 4/2007
Story by Peter Scott, Public Affairs Officer
Photos by Jan Crombie-Brown, NSWFB Photographer
Station Officers graduation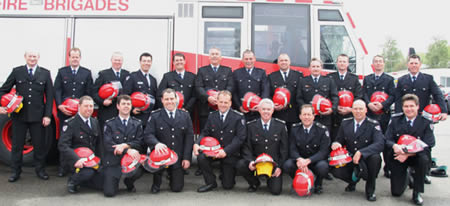 Nineteen firefighters were promoted to the rank of Station Officer at a ceremony at the State Training College in Alexandria on 20 September 2007, where they were congratulated by Commissioner Greg Mullins.
"Being a Station Officer in the NSWFB is a huge responsibility. The nine-week course is very demanding, yet these officers have met every challenge presented to them," Commissioner Mullins said.
"Each graduating Station Officer has received training in administration, human resource management and specialist skills to lead emergency operations including rescues, chemical spills, bush and building fires and even dealing with the aftermath of a terrorist attack. The training they have received will enable them to lead their colleagues and protect the community in any emergency situation."
The Station Officers have since taken up positions at fire stations throughout Sydney, at Broken Hill and in specialist areas.
Story by Peter Scott, Public Affairs Officer
Photo by Jan Crombie-Brown, Photographer
NSWFB appoints first indigenous Captains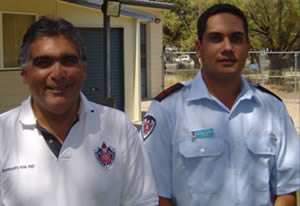 The NSWFB has appointed its first indigenous Captains with Retained Firefighter Rodney Thorne appointed Captain of Walgett Fire Station in September 2007 and Retained Firefighter James Walsh appointed Captain of Brewarrina Fire Station in November 2007. At 22 and 26 years of age respectively, both men have both eagerly taken on the challenge of being Captains of NSWFB fire stations, demonstrating maturity beyond their years.
James Walsh first joined the NSWFB in 2004 as a member of his local Community Fire Unit. He was encouraged to become a retained firefighter by Station Officer Craig Mashman. In 2005, he became acting Captain before being appointed to the role in late 2007.
James, who is married with two children and works for Brewarrina Shire Council, said that he joined the NSWFB to make an impact in his local community. "I wanted to get more involved in the community and I thought that being a retained firefighter would be a good way to achieve that. It's also an opportunity to learn new skills and it gives you a real sense of responsibility," he said.
With a population of just over 2000 people, James said that being a firefighter in Brewarrina has its challenges. "Brewarrina is a small town, so we know most people. That makes it hard when you respond to a car accident or house fire – chances are you'll know the people involved. However, having a connection with the local community can also be a really positive thing. Since I've become Captain, we've had many enquiries from people interested in becoming a retained firefighter. I think my achievement shows people in the community that you can achieve just about anything if you are prepared to work hard and give it a go," he said.
For Rodney Thorne, who is the Assistant Manager of the Walgett District Sporting Club, his transition from Retained Firefighter to Captain occurred even quicker.
"I only joined the NSWFB in November 2006, so I was surprised when I was appointed Captain soon after. I've fulfilled a lifelong dream by becoming a firefighter, so to also be a Captain a year later is really exciting. The NSWFB is a very supportive organisation and I enjoy the camaraderie and strong team environment. I also feel that I'm making a positive contribution to the community," he said.
Superintendent David Felton, Zone Commander Regional West 1, said that he was keen to see more young people, particularly young indigenous people, join the NSWFB.
"It is fantastic to see people as young and enthusiastic as Rod and James take up the position of Captain. We have a lot of very experienced firefighters in the service, but it's important that we prepare the next generation to take the NSWFB into the future. It is also important that our brigades are representative of the communities we serve so it is great to see young indigenous people involved with local brigades, particularly in Brewarrina and Walgett where there are large indigenous populations," he said.
Story by Tammy Ingold, Public Affairs Officer
Photo: NSWFB Aboriginal Services Officer Terry Hill with newly appointed Captain Rodney Thorne
Six new Inspectors for the NSWFB
Five new inspectors received their white helmets and epaulettes from Commissioner Greg Mullins in ceremonies held on 6 and 23 November 2007. Those promoted were Inspectors Murray West, Rob Jansen, Drew Wilson, Gary Meagher and Graham Jarrett. Inspector Greg Reid was interstate and hence unable to attend the presentation.
Commissioner Mullins said that all five officers were a credit to the service. "Murray, Rob, Graham, Gary and Drew have gained substantial experience in a variety of roles during their careers in the NSWFB. Their promotion to Inspector is well deserved and their skills and experience are a major asset to the Brigade."
Inspector West began his career in the NSWFB at Toongabbie in 1985 and subsequently served at Penrith, St Marys and Dunheved Fire Stations. He became Relieving Station Officer in 2004 based out of Huntingwood before becoming Station Officer at Cranebrook. He was appointed as an Inspector on 5 October and is currently Relieving Duty Commander for MW2 based out of Parramatta.
In 1985 Inspector Jansen started his firefighting career at Burwood. He then spent 10 years as a Relief Firefighter rotating between Parramatta, Smithfield and Cabramatta. He completed the Station Officer exams in 1996 and served stints as Station Officer at Parramatta, Guildford, St Marys, Huntingwood and City of Sydney.
Since his promotion to Inspector on 5 October, he has been Relieving Duty Commander MS3 based at St Andrews.
Inspector Wilson began his career in 1985 at City of Sydney, followed by 10 years each at both Busby and at Cabramatta where he was promoted to Station Officer. This was followed by short spells at Parramatta and City of Sydney. He will now be Relieving Duty Commander for ME3 based out of Ashfield.
Inspector Meagher started his firefighting career at Kogarah in 1984 and subsequently served at Newtown, Stanmore, Kogarah. and Hurstville. He was promoted to Station Officer in 2003 based out of Burwood before moving to City of Sydney as Flying Officer and then Rescue Officer. He is now Relieving Duty Commander for ME1.
Inspector Jarrett joined the NSWFB in 1987. He worked at City of Sydney, Auburn, Cabramatta, St Andrews and Campbelltown. He took the SOPP in 2004 and then served at Liverpool followed by time at Campbelltown, Fairfield and Rosemeadow. He has now been appointed Relieving Duty Commander MS3 based at St Andrews.
Inspector Reid joined the NSWFB in 1976 and served at City of Sydney and Redfern before spending 12 years at Alexandria. In 1994 he was promoted to the position of Station Officer and relieved out of Bankstown before working at Lidcombe. In 1998 he was appointed Station Officer at the Hazmat Unit , Greenacre, where he had the opportunity to travel to Canada and train with Canadian fire services in dealing with chemical and biological warfare agents. He is now a relieving Inspector at City of Sydney.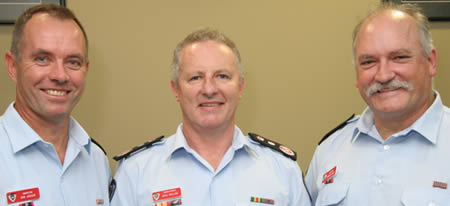 L to R: Inspector Rob Jansen, Commissioner Greg Mullins and Inspector Murray West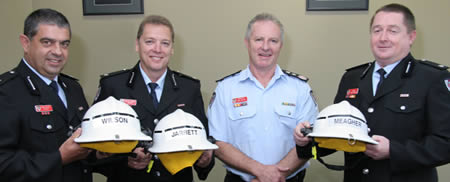 Newly-appointed Inspectors Wilson, Jarrett and Meagher receive their helmets from Commissioner Mullins
Story by Peter Scott, Public Affairs Officer
Photo by Jan Crombie-Brown, Photographer
NSWFB Roll of Honour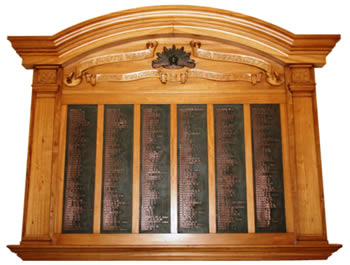 Following refurbishment of the 1887 section of City of Sydney Fire Station, the NSWFB Roll of Honour board has once again taken pride of place on the wall in the historic engine bay. The board is dedicated to 315 NSWFB staff who served during World War 1. Their contribution is commemorated each year at the Anzac Day Ceremony held at the station.
The board was officially unveiled on 2 May 1923 by the Honourable CW Oakes, Colonial Secretary, Minister for Public Health and Acting Premier. It consists of six inset copper panels framed in Queensland maple, and is inscribed with the names of the 315 NSWFB staff who served in the armed forces. The names include those of 64 Permanent Firemen, 237 Volunteer Firemen, six clerical staff, six Workshop staff, one Brigade Medical Officer and one Member of the Board.
Twenty six firefighters were killed in action and ten NSWFB staff received military decorations for their actions.
Here are three of the stories behind those listed.
Leonard Pettit
Leonard joined the NSWFB on 15 April 1914, after working as a seaman on board the SS Aurora, and was part of the crew which transported Dr Mawson on his expedition to the South Pole in 1911. Leonard was stationed at Headquarters and Circular Quay, gaining the rank of Third Class Fireman before resigning in August 1915 to commence Active Service. He served with the 25th Field Artillery Brigade and was killed on 9 August 1916 at Fleurbaix, France.
William Stuart Kilpatrick MM
William worked as a labourer before joining the NSWFB in March 1911. He was stationed at Headquarters, George St West, Marrickville and Granville Stations, attaining the rank of First Class Fireman before resigning in August 1914 to join the Army. William served in New Guinea, Gallipoli and Palestine, winning a Military Medal for bravery with the 6th Light Horse in Palestine in 1918. He also served in New Guinea during World War 2.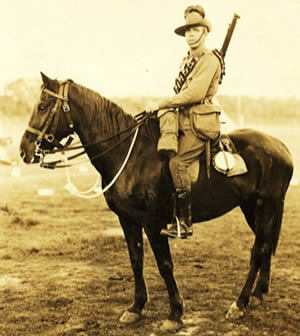 Herbert Norman May
Herbert May worked for a sawmill before joining Casino Volunteer Fire Brigade in July 1914. He enlisted in the First AIF in September 1914, joining the 15th Infantry Battalion and was later promoted to the rank of Lance Corporal. Herbert landed at Gallipoli on 25 April and was killed in action on 9 May 1915.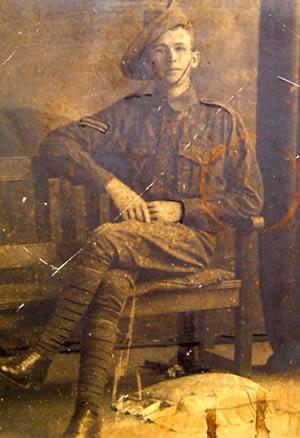 Story by Station Officer Ian Grimwood
NSWFB wins Safer Communities Award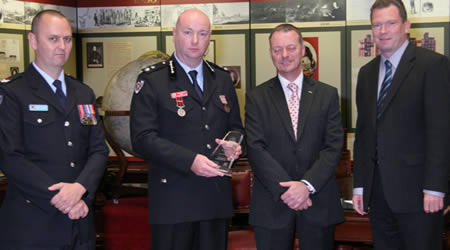 The NSWFB has received a NSW Safer Communities Award for its innovative approach to pre-disaster planning for bushfires. The award, which was announced in State Parliament on 25 September 2007 by Nathan Rees, Minister for Emergency Services, was awarded to the I-Zone project which reduces the effects of bushfires on people living in bushfire-prone areas. Winning the award means that the project is now a finalist in the national Safer Communities Awards, the winner of which will be announced in early 2008.
Assistant Commissioner Graham Dewsnap, Director Specialised Operations, said the I-Zone project was being piloted by fire stations in Campbelltown, Katoomba and Ryde.
"Bushfires are a constant danger, so we are continually refining our methods and looking for ways to improve our response and protect the community. We have taken a new approach to managing bushfires which impact on the urban environment. The I-Zone project draws on the latest technology and world's best emergency practice. I-Zone uses aerial photography, electronic data management and response planning, integrating these with the NSWFB's Computer-Aided Dispatch system to provide a holistic response to bushfire emergencies."
Superintendent Gerry Byrne, Manager Bushfire/Natural Hazards, has been the driving force behind I-Zone. "Over the past three years we've drawn on research from around the world, in particular the US, to develop a risk assessment process which better identifies risks before and during bushfires. This approach enables us to make more informed decisions and deploy resources to where they are most needed," he said.
In the State awards, the NSWFB's Culturally and Linguistically Diverse (CALD) program, which provides fire safety information to community groups, was Highly Commended.
Assistant Commissioner Murray Kear, Director Community Safety, said the CALD program had made important inroads into fire safety awareness among NSW residents from different ethnic backgrounds as well as new migrants and refugees. "Firefighters play an important role in educating the community about fire safety and nowhere is this more important than among members of CALD communities who are more likely to experience a fire in the home or be injured by fire. While most people know that Triple Zero is Australia's emergency number and that smoke alarms are compulsory in all homes, new migrants or people whose first language is not English may not be so familiar with these messages."
"Through a partnership with the Australian New Muslims Association (ANMA) in Lakemba, local firefighters are able to deliver these important fire safety messages and raise awareness about the work of the NSWFB. The ANMA and the NSWFB have been working together for the past four years to develop joint fire safety presentations on smoke alarms and other key fire safety programs for the local Arabic community using interpreters and translated fire safety fact sheets."
The CALD program is also being delivered to Sudanese refugee groups by firefighters in Coffs Harbour, Orange, Lismore and Blacktown. In Parramatta, the CALD program is being delivered to the Vietnamese and Chinese communities and in Leichhardt to the Italian community. David Weir, CALD Coordinator, from Community Safety has been the driving force behind the program.
Story by Peter Scott, Public Affairs Officer
Photo: L to R: Senior Firefighter Darren Vatcher, Superintendent Gerry Byrne, the Director-General of Emergency Management Australia Tony Pearce and Emergency Services Minister Nathan Rees
NSWFB teams perform well at 2007 National Firefighter Championship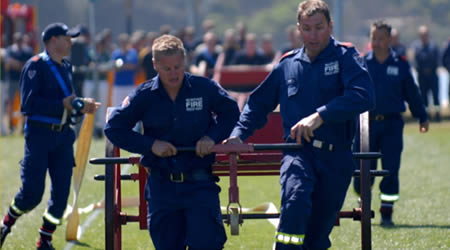 In October 2007, five teams from the NSWFB headed to Lakes Entrance to compete in the 2007 National Firefighter Championship, finishing a great year of Championship competition. The teams from Casino, Glen Innes, Kelso, South Grafton and Nowra Fire Stations qualified for the competition based on their performance in the 2005/06 Championship series which included the 2006 NSWFB State Firefighter Championship held in Port Macquarie.
Assistant Commissioner Graham Dewsnap, Director Specialised Operations, said that the NSWFB teams performed well in the face of stiff competition.
"There were 28 teams from across Australia and New Zealand competing in this year's event and there were some very strong competitors, but our teams competed with the best of them. Because the event was run in Victoria, some of the equipment and events were different to our regular events. However our teams rose to the challenge and I am really proud of the effort put in by all NSWFB firefighters at the event," he said.
The best-placed NSWFB team was Kelso, the defending National Champions, who took out 3rd place behind Victorian teams Dandenong and Melton who took out 1st and 2nd respectively. The other NSW placings were Nowra (5th), Glen Innes (11th), South Grafton (12th) and Casino (18th). The Kelso team won the four competitor Collector event, while Retained Firefighter Craig Mayled (from Coffs Harbour Fire Station but running with Casino) placed 7th out of 56 competitors in the Ladder Practice event, closely followed by Retained Firefighter Ray Dresser in 8th place.
In 2008, there will be four NSWFB Firefighter Championships in the leadup to the State Championship which will be held in Tamworth from 18-24 October 2008.
1-2 March  -  Uralla Fire Station
5-6 April  -  Mudgee Fire Station
14-15 June  -  Morisset Fire Station
30-31 August  -  Bega Fire Station
Story by Tammy Ingold, Public Affairs Officer

Photos by Qualified Firefighter Grant Harper
Acknowledgements
Commissioner: Greg Mullins AFSM
Assistant Director Public Affairs: Kate Dennis
Manager Corporate Communications Capability: Peter Walker
Editorial Board:Â Wayne Challinor, Jan Crombie-Brown, Bronwyn Hilton, Anne Pickles, Steve Pearce, Wayne Roberts, Paul Rugg, Sonya Sandham, Rachel Scott, Jim Smith, Mark Whybro and Peter Walker
Design and layout: James Hanney, Web Publishing Coordinator
Telephone:Â (02) 9265 2907Â Fax: (02) 9265 2882
Internet: www.fire.nsw.gov.au
Send articles and photos to:Â FireNews.NSWFB@fire.nsw.gov.au
The Editorial Committee thanks all contributors for sending material, and invites your contributions – but please understand if constraints of space prevent us from publishing some items.
The contents of Fire News are copyright and cannot be reproduced either in part or full without written permission.
Fire News reserves the right to edit items submitted for publication.
Let us know what you think. Email feedback to: FireNews.NSWFB@fire.nsw.gov.au