Home fire escape plan - grid & instructions
Home fire escape plan - grid & instructions
Sample escape plan & tips
An empty grid appears on the downloadable print version of the Escape plan grid (PDF, 60Kb) so you can draw your own home fire escape plan.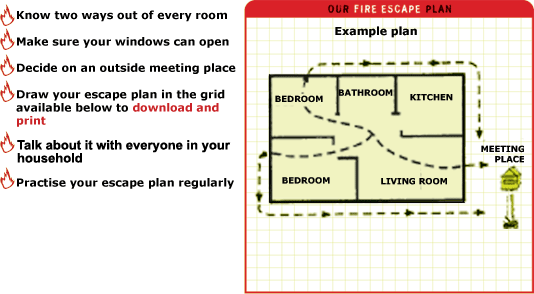 Bush and grass fire information
For information regarding Fire Bans and other Fire Restrictions contact The NSW Rural Fire Service on 1800 679 737 or visit http://www.rfs.nsw.gov.au
Stay up to date with the latest information about bush fires by checking www.rfs.nsw.gov.au (NSW Rural Fire Service website), listening to your local radio station or by calling the NSW RFS Bush Fire Information Line on 1800 679 737.
If your life is at risk, call Triple Zero (000) immediately.