Urban search and rescue
Urban search and rescue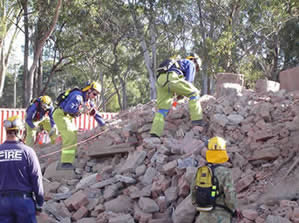 Urban search and rescue (USAR) is a specialist capability to locate, provide medical assistance to and remove victims who have been trapped or affected by a structural collapse.
A USAR Task force is a team of trained personnel including, rescuers, ambulance specialists, hazardous material technicians, trauma doctors and others. The NSW USAR task force combines specialist extrication and medical skills along with firefighting skills of entry, salvage and hazardous material response.
USAR is a key component of the state's ability to deal with the consequences of a terrorist attack, and Fire & Rescue NSW (FRNSW) plays a key role in training and providing tactical and strategic support to other states, territories and countries in the region.
FRNSW urban search and rescue expertise gives the State an internationally recognised structural collapse capability, and we are registered with the United Nations to respond to requests for international assistance.
We have integrated teams from other states and territories into our overall command-and-control structure. This ensures a seamless amalgamation of resources if ever required for a prolonged structural collapse.
We have also developed strategic partnerships with other emergency services and interstate fire and emergency services. We also assist with development of USAR capabilities in the Asia Pacific region.
The USAR course is conducted over three weeks culminating in a 48 hour exercise during the final week. The course focuses on the disciplines necessary for work in this type of environment. These include shoring, concrete breaking and cutting, and technical search.
USAR incidents and training
Want to learn more?
Australian Government Emergency Management Australia - USAR
If you would like to learn more about Urban Search and Rescue (USAR), including the history of USAR in Australia, international taskforce details and more, go to the Australian Government Emergency Management Australia - USAR [external link] website.