Area of service in NSW
Area of service in NSW
Fire and Rescue NSW has 339 fire stations across NSW. Our service area covers townships within four regions - north, south, west and metropolitan as per the map below.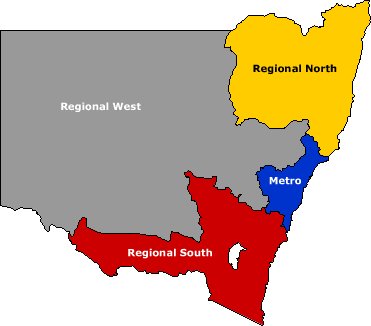 We protect 90% of the State's population from emergencies involving fire, motor vehicle accidents and other dangerous situations.
We protect 100% of of the State's population from hazardous materials emergencies and building collapse.
We provide terrorism consequence management for 100% of the State.
Our stakeholders include the people, the environment and the economy of NSW.
Bush and grass fire information
For information regarding Fire Bans and other Fire Restrictions contact The NSW Rural Fire Service on 1800 679 737 or visit http://www.rfs.nsw.gov.au
Stay up to date with the latest information about bush fires by checking www.rfs.nsw.gov.au (NSW Rural Fire Service website), listening to your local radio station or by calling the NSW RFS Bush Fire Information Line on 1800 679 737.
If your life is at risk, call Triple Zero (000) immediately.